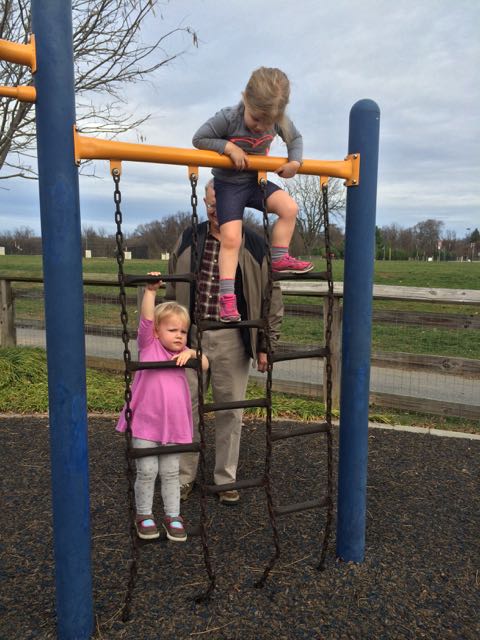 Over Thanksgiving we headed back to Western Regional Park in Howard County, MD to explore the playground that was under construction the first time we visited.  The playground did not disappoint – the girls spent at least an hour running up and down the playground and playing hide and seek with new park friends.
The playground at this rural park is fenced in with a rubberized surface and has a little bit of everything – swings for all ages, climbing walls, balance beams, slides, tunnels, and plenty of benches.  The younger age playground boasts several straight and winding slides, steps with helpful railings, a bouncy bridge, and challenging climbing spots for younger ones. Tots swings and a short climbing wall are also nearby.
The playground for older ages has similar features, but at higher and more challenging levels for the big kids.  There are several balance beams, tall slides, climbing walls, a very tall climbing ladder, tunnels, and long walkways – great for running.  There is also a tall, volcano-shaped climbing wall nearby, perfect for hide and seek games.  This park is great for having multiple younger-aged children as you have good sightline of the whole fenced-in playground.
After exploring the playground area be sure to check out the rest of the park with its soccer fields, spider-web climbing structures, walking trails, and more!
Thumbs up: lots to do, good sightline of playground making it easy to keep track of multiple kids, variety of climbing features
Thumbs down: in windy weather, you'll catch some interesting smells from nearby farms