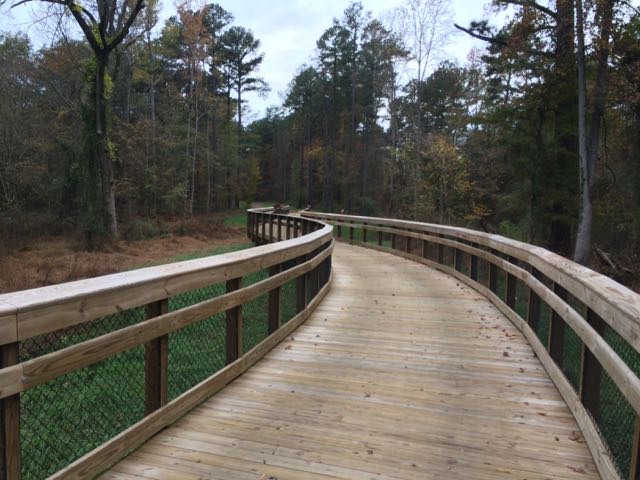 Back in November we took advantage of my aunt visiting and went on a greenway biking day date!  We biked along Crabtree Creek Trail from milepost 0 to 4.75, completing the final segment of this greenway that we had left to explore.  We parked at Anderson Point Park and biked past the traffic circle near the park's main entrance to the Crabtree Creek Trail greenway entrance and headed west (note: there are also signs for Neuse River Trail).
This portion of the greenway was pretty flat, but offered a lot to look at along the way.  We biked almost 5 miles and crossed several bridges and went under several overpasses on this trail segment.  From Anderson Point Park, we headed west where we biked under Rogers Ln and US-64, S New Hope Rd, I-440, New Bern Ave and then followed the sidewalk along Milburnie Rd before connecting up with more of the greenway.  After Milburnie Rd, the trail was covered in leaves and got rather hilly.  We saw some pretty water views from the high banks of Marsh Creek but also saw less desirable views of the abandoned nightclub, Envy.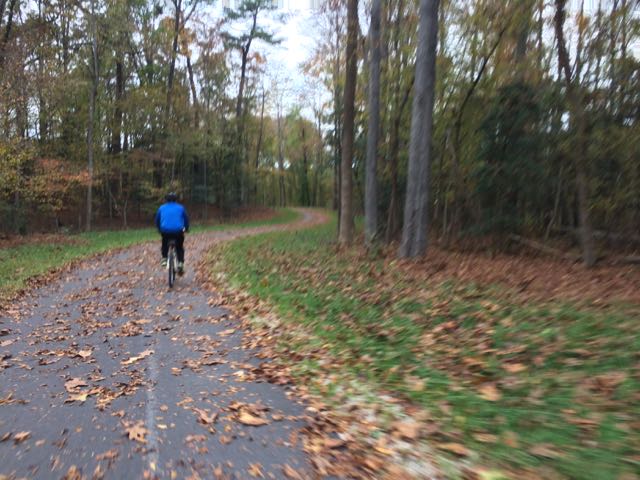 We biked until about mile marker 4.75 where we turned around at an abandoned commercial building with a gantry crane to ensure we returned to the park before sunset (note: just past this spot is Lockwood Park).  The ride back was as refreshing and quiet as the ride in, covering more wooded areas than residential areas.  We passed a few runners and bikers along the way, but this section of the trail definitely felt less travelled compared to others.  After our bike ride, we quickly came home to change and then hopped back into the car for part 2 of our date at the new Cinebistro movie theater in Cary where we saw The Martian…a relaxing end to a fun date!
Thumbs up: road signage at highway overpasses, quiet/relaxing ride
Thumbs down: lack of signage about upcoming parks/playgrounds along bike route