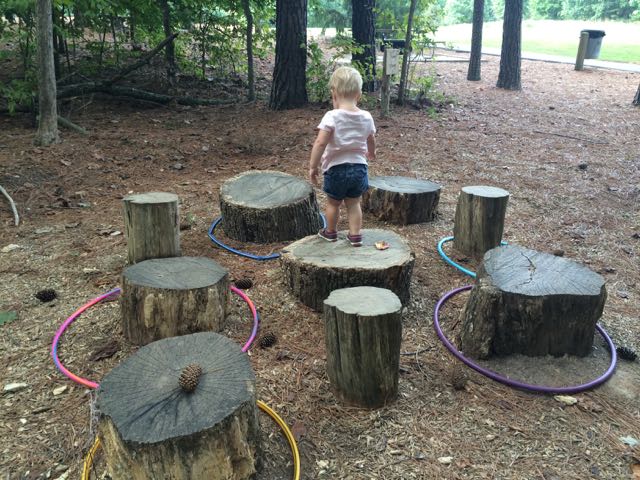 In September we took advantage of a cool, clear Sunday morning to explore Blue Jay Point County Park again with friends.  Instead of the hiking and playground time we did during our first visit to this park, we visited the natural play area (followed by playground time).  More of these natural play areas are popping up in the area so it was fun to see what this park has to offer.
Blue Jay Point County Park is located on a peninsula at 3200 Pleasant Union Church Rd in North Raleigh.  It is surrounded on three sides by Falls Lake and just south of the intersection of NC-98 and Six Forks Rd.  The natural play area is located on the left side of the park, so we turned left after passing the Education Center and then turned right into the parking lot near the baseball fields.  There isn't signage from the main roads to direct you to the play space, so you may need to check the park map if my directions don't help.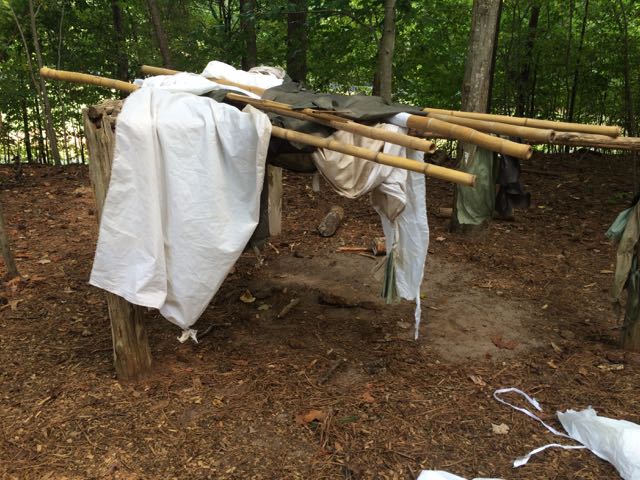 After getting out of the car we walked along the paved trail where we saw the first Natural Play Area sign.  We walked a short while and then arrived at the play space, which is opposite from a large open space field.  The play space is in a wooded area and features several play areas: sand box with wooden blocks, stumps with hula hoops, bamboo poles with large nylon pieces, and picnic tables.  The girls spent time in each area, but thoroughly enjoyed hopping along the stumps and building a hut with the bamboo poles and nylon.  We collected more sticks from the nearby woods and pretended to build a fire inside our hut while using the nylon pieces to create roofs, siding and doors.  This pretend play has extended to our own backyard where we currently have a large branch collection and old trash bags for building outdoor areas.
I love natural play areas because the kids get to exercise their imaginations by playing outside with outside things (aka I don't have to bring crap with us).  My kids love a good playground, but they also love to get down and dirty with mud pies, sand, and worms.  Natural play areas have ways of creating places where kids can engage with nature in their own creative ways.  NC State's College of Design has a Natural Learning Initiative whose mission is to, "Help communities create stimulating places for play, learning, and environmental education – environments that recognize human dependence on the natural world."  I look forward to following their developments in the future.
Here are some other natural play areas we've explored in the area:
Thumbs up: creative play spaces with stumps and bamboo building, having natural play areas as one feature within a larger park
Thumbs down: signage to natural play area