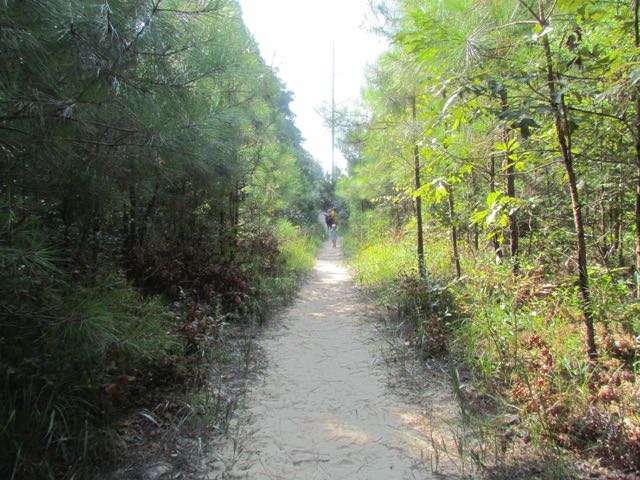 Believe it or not, Nags Head has hills and I'm not talking about the sand dunes near the beach or at Jockey's Ridge State Park.  During our annual end-of-summer Nags Head beach trip we decided to break up our beach days with a hike in the Nags Head Woods Preserve.  We also make an annual trip to the Nags Head Woods Preserve every May for the Yuengling 5k race, but we've never had time to explore the woods other than the gravel race trail we run.  I should've remembered how hilly that race can be and then better prepared myself (and family), but what fun would planning be?!
Nags Head Woods Preserve is located at 701 West Ocean Acres Dr on the sound side of US-158.  We like to use the local dive bar, Mama Kwans, as a reference point for where to turn from the main road when heading to the woods area.  And, turning by Mama Kwans makes us reflect on crazy silly late-night bar stories that involve Bill ordering a bottle of Veuve Clicquot because, "I'm getting a raise next week!"  But, I digress!
Follow West Ocean Acres Dr through a small residential area until you arrive on a gravel path, which you'll continue on for 1/4 mile.  You'll then see a sign for the Nature Conservancy and a small parking lot for the woods.  The Nature Conservancy owns and operates the Nags Head Woods Preserve, which is over 1100 acres of wetlands, dunes, ponds and marshes.  According to their website, "Working with the towns and other partners, The Nature Conservancy has succeeded in protecting this fragile ecosystem, overseeing both terrestrial and marine research and monitoring programs and providing trails for visitors to enjoy."
After unloading in the parking lot, we walked up the boardwalk and the little ones scoped out the murky ponds while we decided on a trail to hike.  Being overly optimistic we decided on Trail #2 – the 2.25 mile Sweetgum Swamp Trail; with three little people (and only one carrier) and five big people we figured we could handle the trail.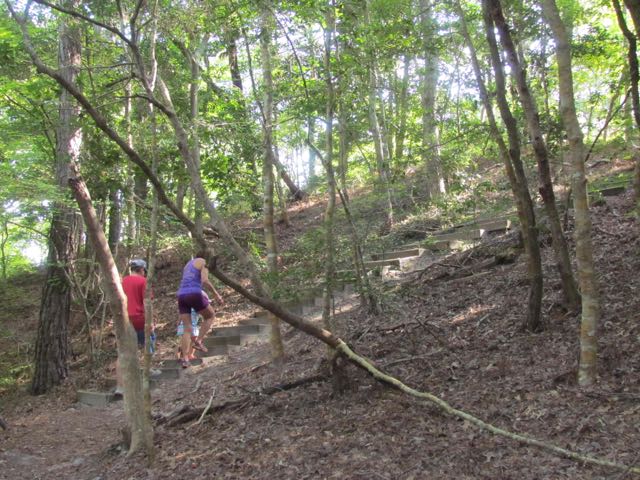 So, we set off on the trail and before you knew it we were in a dense forest just minutes from the beach.  The unpaved trail is covered in pine needles, but well marked; Ashley was even able to follow the trail markings to stay on the path.  After heading straight for awhile, we climbed steps up a steep hill to what felt like the ridge of a mountain – the trees were shorter and all of a sudden we were walking down a sandy hill.  I quickly learned that kids love sand unless they have to hike through it.  After several moments of juggling kids on shoulders and in carriers and distractions of the colorful flowers, berries, and butterflies, the sandy trail base was replaced with the preferred compact pine needle trail.  We took a right to stay onto the looped portion of the trail.  Along the way we passed by several swamps (complete with croaking frogs), more steep hills with steps, spooky Charleston-like trees, and several different plant communities.  Halfway around the trail loop is access to Trail #3 (Blueberry Ridge), but we decided to save that trail for another time.
The second half of our hike consisted of more kid juggling on shoulders and in the carrier just so we could make it back to the parking lot in one piece.  There was a lot of kiddo melting down, but in their defense it was a hot morning and we had walked almost 2 miles by this point.  When we got back to the sandy portion of the trail (that was downhill on the way in), all I could do was laugh because I knew the kiddo melting down was headed to a new level as they had to climb the steep sandy hill.
But, we all survived and cheered enthusiastically when we saw the Visitor Center signs.  It really only took us about 1 1/4 hrs to complete this hike.  After getting very hot and sweaty from our hike we rushed over to the Bonzer Shack for a hearty lunch and much-deserved beers and milks!  Despite this hike being too strenuous for our girls, I look forward to coming back to explore other trails in the future – bring on the beach hikes!
Additional Resources:
Thumbs up: adventurous hike with lots of plant and pond life to see, contrasting landscape at beach, signage, well-maintained trail
Thumbs down: better suited for older children, hilly hike for toddlers