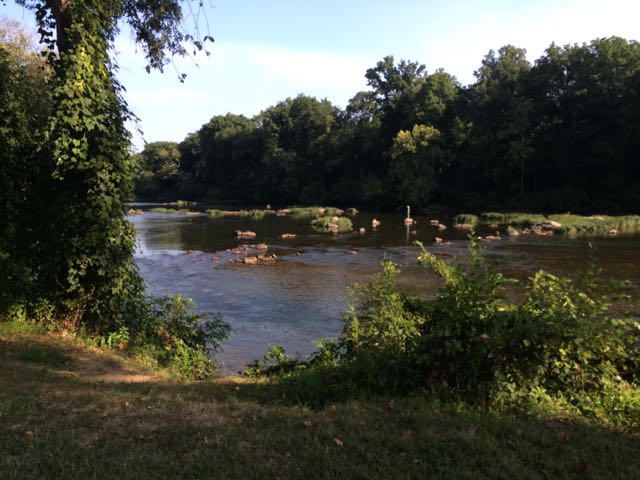 Before summer came to an end we headed back up to VA for a final party at my mom's house before turning it over to new owners.  To counteract the bushel of crabs (and beers) we were going to eat that weekend, we headed into downtown Fredericksburg on Saturday morning for a run and some playground time.
We parked at Old Mill Park (2410 Caroline St) along the Rappahannock River in downtown Fredericksburg.  We walked up towards Caroline St and turned right on the Heritage Trail, heading towards Route 1. Heritage Trail is a 1.6 mile paved path that parallels the Rappahannock River, offering gorgeous views of the flowing river through the city.  We quickly passed under Route 1, then followed along Riverside Dr before turning right along Fall Hill Ave.  We passed by the entrance to Virginia Outdoor Center and then turned left onto Canal Path trail.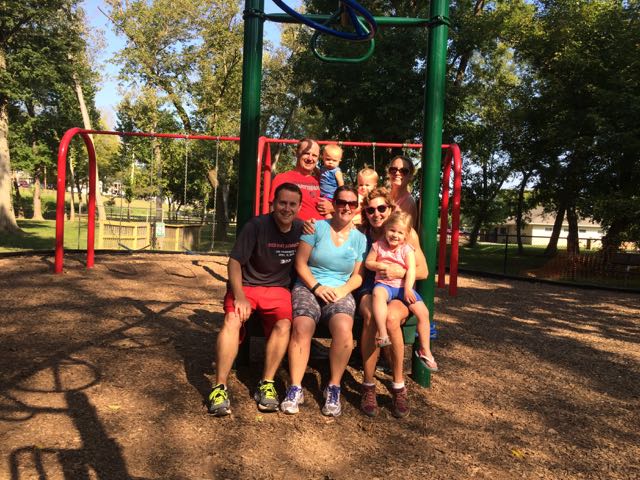 The Canal Path is a paved 1.8 mile trail that parallels the canal until Princess Anne St where it then connects back with the Heritage Trail making a loop through downtown.  The Canal Path is mostly shaded, making it a great way to escape the summer heat.  We passed behind Mary Washington Hospital, ran under Route 1 again, ran by the Wetlands at Gayles Pond, and passed the Fredericksburg Dog Park on our way back to Old Mill Park.  Both trails display mile markers and informational signs throughout the paths related to historical aboriginal culture, Civil War battle action and current-day wetlands.
After our 3.1 mile loop run we ended back at Old Mill Park, which was a great place for the little ones to get out and stretch their legs.  Old Mill Park has a large playground for ages 2+ nestled under large trees.  It has several slides, climbing structures, built-in games for littles one to manipulate, nearby swings with tot swings, and several teeter totters.  Old Mill Park also has several large open fields (used mostly for soccer), pavilion with picnic tables, restroom facilities and riverfront views.  After all our running around we headed to the nearby Mason Dixon Cafe for brunch and mimosas.  And, no downtown Fredericksburg visit would be complete without walking next door to Carl's for amazing ice cream!
Additional Resources
Thumbs up: beautiful river views, accessibility to running/walking loop in downtown Fredericksburg,  historical markers of information, picnic spots, playground along running loop, felt very safe with all the foot traffic
Thumbs down: nothing to report