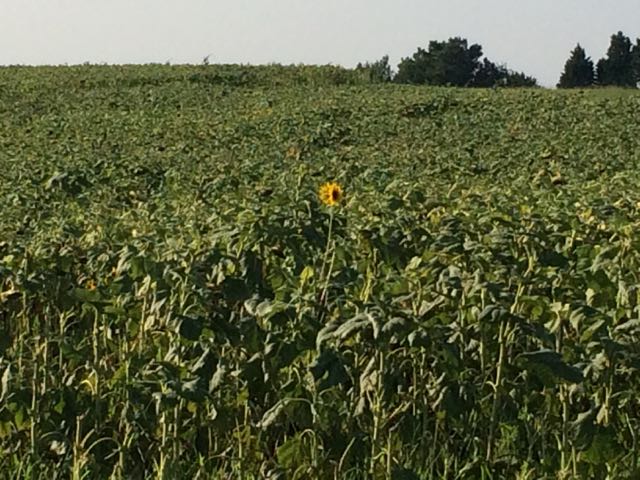 Near the end of July we ventured to the southern section of the Neuse River Trail in hopes of finding the beautiful field of sunflowers that were in bloom (from a hot tip by TriangleExplorer). We've run or biked a large portion of the Upper Neuse River Trail, but haven't done much exploring along the Lower Neuse River Trail so it seemed like the great thing to do before the sunflowers lose their blooms.
We parked in the small greenway parking lot near the intersection of La Costa Way & Auburn Knightdale Rd in southern Wake County. After parking we walked down the short access road to the compass in the greenway and turned right to head south. We quickly passed mile marker 22 and even though it was a weeknight we saw a good amount of foot traffic. We ran over some small bridges, ran parallel to acres of old farm land that separate the greenway by rolling white picket fences, and ran under the Battle Bridge Rd tunnel before coming to the field of sunflowers around milepost 23.5. There is little shade along this greenway so we were hot and sweaty from pushing the double stroller and happy to walk up the hill towards the sunflower fields. Unfortunately, my timing was off so we missed the sunflowers at their peak and saw mostly wilted sunflowers that were losing their seeds. The 50 acres of sunflower fields are used as an application site for biosolids from the nearby Neuse River Wastewater Treatment Plant. They eventually harvest the sunflowers and use the seeds to produce biodiesel. Read here to learn more about the sunflower fields.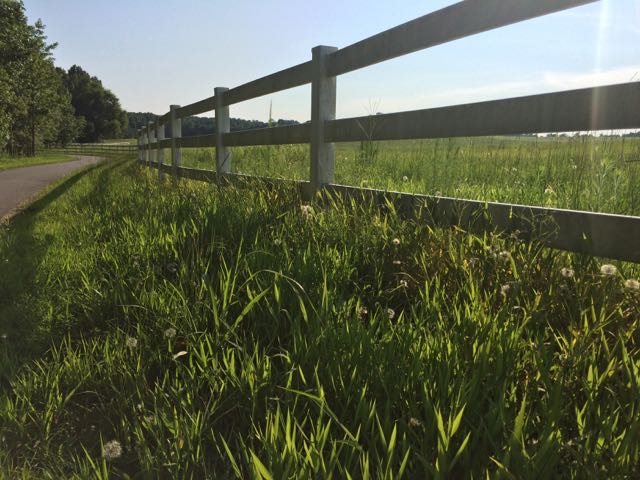 We continued south along the greenway and caught a closer glimpse of a few sunflowers still in bloom. We turned around when we reached mile post 23.75 near the intersection of Brown Field Rd.
It was a hot and humid July night for a run, so we took our time on the run back. We stopped for some much deserved Bad Daddy burgers and beers on our way home through downtown Raleigh. I can't wait to catch the sunflower fields in their peak next summer.
Hot tips for next year:
2016 Update:
On June 26th, we parked near the intersection of Brown Field Rd & Neuse River Trail and walked a short ways to the sunflowers. They definitely seemed to be in their peak bloom when we visited, though the timing is slightly different each year. The girls loved admiring the field of sunflowers and I was so thankful to share this amazing scene with them.
Thumbs up: scenery of sunflower fields, beautiful open farm land
Thumbs down: hot, sunny trail in summertime