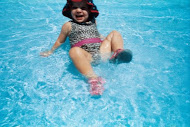 For Claire's 2nd birthday this year we decided to take a family trip north to Langhorne, PA to visit Sesame Place amusement park.  She recently discovered a fondness for the Sesame Street characters and with her love for the water it seemed like a fun way to celebrate her crazy, smart, expressive 2-year old self!
Sesame Place is located at 100 Sesame Road in Langhorne, PA, which is about 40 minutes north of Philly off I-95.  We drove to my in-law's house in Maryland on a Thursday and spent the night and then drove the rest of the 2.5 hours to Sesame Place on Friday morning.  After arriving to Sesame Place on Friday around lunch time, we quickly parked, gooped up with sunscreen, and headed into the park.  See my list below for what to bring into the park with you. I pre-ordered our "Any Day" admission tickets ($55 each) online, which were good for any 2 visits (Friday and Saturday for us) in 2015, and saved about $10 per ticket.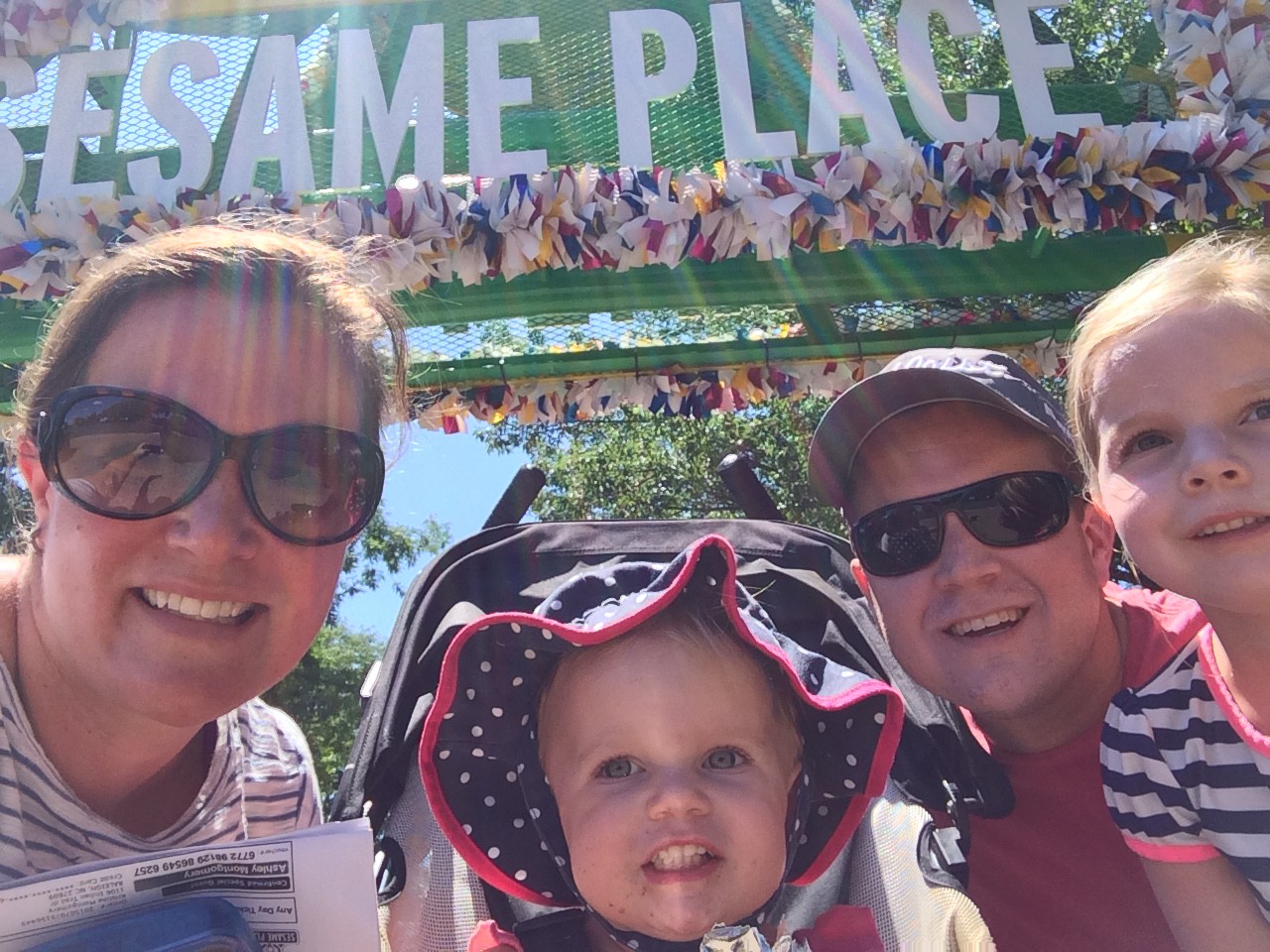 After getting into the park on Friday afternoon we got a quick pass bracelet to more easily pay for food, rented a locker for our wallets and got some lunch.  Thankfully I brought lunch in for the girls while Bill waited in line for at least 15 minutes to order salads for us.  The southwest chicken salads tasted like chicken and lettuce drizzled in barbecue sauce, but honestly, we were starving and happy to eat.
Here are our thoughts on the Wet Rides:
Slimey's Chutes – great way to introduce little ones to water rides as they can ride by themselves if they're over 36″
Teeny Tiny Tidal Pool – has three separate pool areas between 6″-18″ deep with several water fountain sprays; Claire's favorite place to cool off and splash as there's no line and life jackets are not required
Ramblin' River (aka lazy river) – everyone loved this relaxing ride except Claire who was required to wear a life jacket and fought it kicking and screaming until the very end of the ride; note: Ashley had to wear a life jacket too but was fine with it
Ernie's Waterworks – fun splash pad area good for kids of all ages; warning – you have to pass by the huge sandbox area to get into Ernie's Waterworks so if you don't want to clean off wet, sandy kids prepare to distract them when you walk by that area
Count's Splash Castle – super fun water playground area with several water slides that little ones can ride by themselves without life jackets as water depth is 6″; you'll get soaked just walking near the playground; water temperature was pretty chilly despite the hot temperatures
Sky Splash – our favorite ride because the whole family (including Claire) could ride together in this large raft; has some fun jaw-dropping plunges; lines can be long for this popular ride (we waited about 20 minutes each time) so arrive early or go during the character parade
Sesame Streak – fun ride for little ones, but know that they have to ride in double tube with you if they're under 42″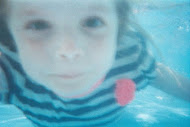 Here are our thoughts on the Dry Fun Rides:
We rode just about every dry fun ride and the twiddle tracks located next to the tidal pool area, Monster Mix-up (aka tea cups), and Vapor Trail (aka roller coaster) were our faves
We felt like the ride attendants didn't efficiently place patrons into the rides so it took much longer to go through the lines than it should have.
Monster Clubhouse (climbing house) was a good go-to activity before lunch and during down times because there was no line.
Character Parade happens everyday at 3pm and is a must-see event for the kiddos.  We arrived about 10 minutes early to discover both sides of main street were covered in rows of people.  We found a decent spot one row back, laid our towels on the hot asphalt and enjoyed the parade for a good 30 minutes.  This was a great way to see all of the characters in one place and enjoy a late afternoon snack.
Overall, our family had an amazing time at Sesame Place.  I first visited Sesame Place with my family when I was about 6 or 7 years old when we embarked on an unforgettable RV trip from Virginia.  Even though our youngest was probably a little too young to endure standing in lines and the long days, the trip was a fun memory that we'll have thanks due to our old school underwater Kodak film camera.
Hot tips:
bring your own lunch and waters ($3 in park); we brought PB&J sandwiches and snacks for the girls so they didn't have to wait around while we ordered food, which took at least 20 minutes
bring a small umbrella stroller with fold-up shade to carry little one and all your stuff.
wear water tennis shoes
bring 1 or 2 towels for a family of 4
break up the hot day by seeing a 25-min show in the early afternoon
get a Quick Pass wristband hooked to your credit/debit card to easily pay for food and drinks
leave your cell phone in the locker and purchase a waterproof disposable camera for catching highlights from the day; it was great to disconnect for the day and be with family
arrive at park early to hop on popular water rides right away; we almost signed up for Abby's Magic Queue to do priority boarding but it wasn't applicable for every ride and sold out quickly
We decided not to pre-purchase any lunches/dinners with the characters, which was spot on with this crew; even though the girls LOVE watching Sesame Street cartoons and talked them up the whole car ride, they were terrified when they saw them in person in the park
We stayed at the new Hampton Inn & Suites about 15 minutes away in Bensalem; it was less than $150/night for a king studio suite with kitchenette (staying in a hotel room was a HUGE bonus for our kids); the staff was super friendly, breakfast bar was included in your stay, and the pool was clean and relaxing; nearby Red Robin restaurant was super fast despite busy Friday night
What to bring into park: lunch (at least for kiddos), healthy snacks, waters, 1 or 2 towels, small umbrella stroller, sunscreen, diapers, wipes
Thumbs up: landscaping, family-friendly rides for all ages, lots of benches and shady spots for taking a break, life jackets available at every ride so you didn't have to carry one around all day, perfect size amusement park for young family – lots to do but didn't require miles of walking with little ones; amazing people watching, several diaper changing areas in bathrooms
Thumbs down: no bathrooms near locker rooms, lacks of helpful directional signs from Main Street area, slow food service, inefficient ride loading, difficult to find bathrooms