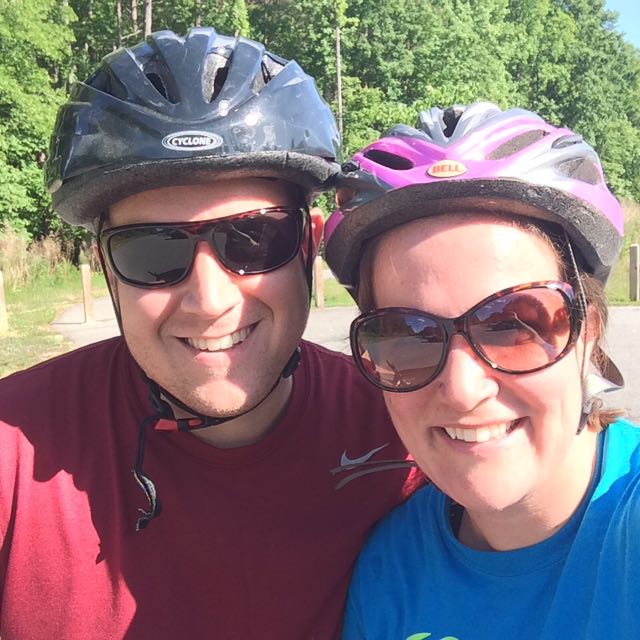 On the heels of family visiting at the end of May, my aunt offered to watch the girls while Bill and I headed out for a date night.  Instead of gorging ourselves at a new restaurant, we decided to dust off our bikes and chomp away at another segment of the Neuse River Trail between the Bedford neighborhood and US-401 (followed by beers at a new brewery, Compass Rose Brewery).
For our bike ride we parked in the trail parking lot at 10888 Bedfordtown Dr in the Bedford neighborhood in North Raleigh.  We followed the access road to the trail, turned right to head south, went over a small bridge and then bared to the left to stay on the main trail.  This part of the Neuse River Trail is mostly flat and shaded with several bridges (including covered ones) to pass over and under.  We passed several folks biking and running on the trail and even more folks canoeing and tubing down the river.  Here are a few highlights along our route:
milepost 3.5 – look over the river to spot old gas or electricity lines running across an old steel bridge
milepost 4.5 – access to oxbow in the river due to years of erosion and sand deposition creating a really sweet swimming hole with sandy beach.  The water flows very slowly in this spot and we saw a few younger kids fishing.  I'd love to bike with the girls down here and bring a picnic and bathing suits.
milepost 5 – large bridge access to (presumably future) Wake Forest trails
milepost 6.5 – access to WRAL soccer park
milepost 7.5 – access to Horseshoe Farm Nature Preserve (still under construction, set to open August 2015)
milepost 8 – suspension bridge near US-401
For two people who hadn't ridden bikes in at least 4 years, this was the perfect ride to ease back into things.  Overall the ride was a little over 11 miles total (out and back) and provided a lot of great scenery and ideas of future outings for swimming, biking and maybe even some tubing!
Thumbs up: access to swimming hole and several parks along the way, relatively flat and shaded trail, variety of water activities available
Thumbs down: nothing to report