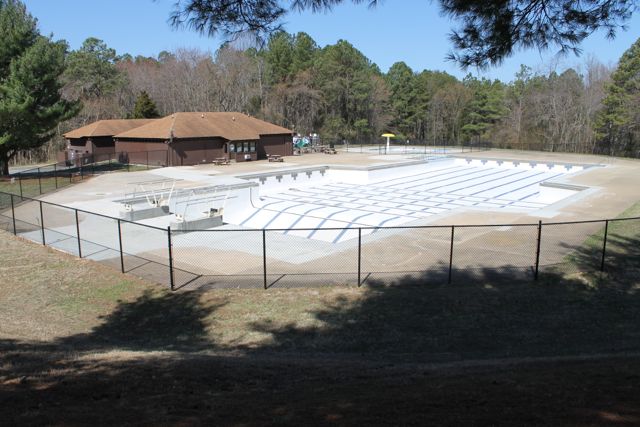 After my mom's sudden passing in March, my sister, brother and I immediately went into triage mode when it came to making sure her staffing business ran as usual and getting her personal affairs in order.  Before her funeral, we needed a break from all the new terminology we learned and responsibilities we acquired, so we set out with all the cousins and my aunt Jeanne to a special hometown park that meant a lot to our mom and was a big piece of our childhood, Curtis Memorial Park, in Stafford, Virginia.
Curtis Memorial Park (aka Curtis Park) is located at 58 Jesse Curtis Ln in the rolling hills of Hartwood's farm country (more and more of that area is being developed now).  Growing up, we spent a lot of our time here; whether it was attending summer camp or the annual Easter Egg Hunts, taking swimming lessons, being on the swim team, going on spooky Halloween nature walks, having my birthday party, attending my senior year picnic, helping with soccer camp, or working at the front gate, we made a lot of memories with great friends and family.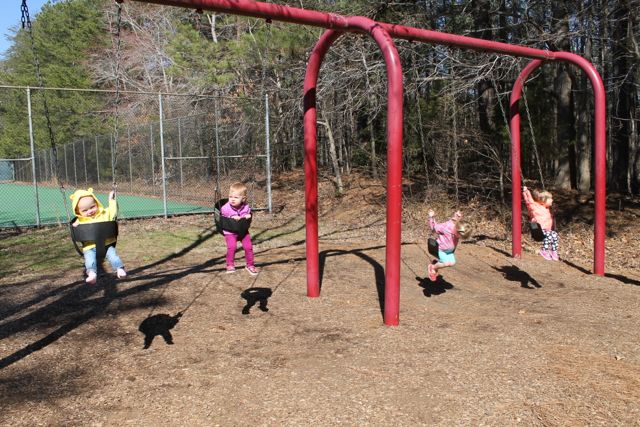 Curtis Park features an olympic-size outdoor swimming pool with a large baby pool with splash umbrella and zero-depth entry, 18-hole Gauntlet golf course, nature trails, pavilions, sand volleyball, tennis courts, skateboard park, fishing lake, playground, baseball fields and large open fields.  As you drive into the park, you pass a beautiful tree-lined entrance road that leads to open fields adjacent to the tennis courts, skateboard park and playground.  Turn left before the open fields to access the Gauntlet golf course and small to medium-sized pavilions.  The playground features several slides, climbing structures, bridges, teeter totters, tot swings, regular swings and a sliding bar.  It is adjacent to a small pavilion and the tennis courts and backs up to a nearby nature trail.  The girls loved climbing all over the playground and spent a lot of time swinging together!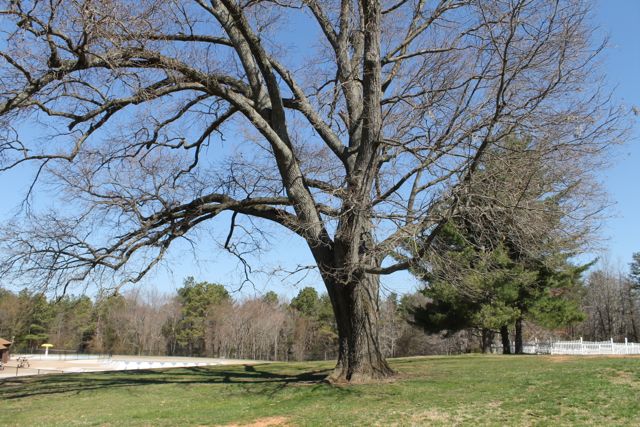 Past the open field is a large parking lot with access to the pools, nature trails and large pavilion on top of the hill overlooking the pool.  Further down the main road is the large lake for fishing and boating and more nature trails.  The main fishing pier and boat ramp is accessible from the other side of the lake on Stony Hill Rd (you must exit the park). After our playground time we picnicked on top of the hill, which offers the best views of the park. The girls enjoyed chasing each other while taking in the site of the drained pool below.  The Olympic-size pool has depths of 3ft and 4ft in the shallower end to 12ft in the deep end.  The baby pool features a zero-depth entry and splash umbrella.  The deep end has two diving board blocks, but with it being out of season when we visited I'm not sure if they actually allow diving.  I have very vivid memories of jumping off the since removed 3-meter springboard and 5-meter platform boards during off hours.  Being the daughter of the Aquatics Director had its perks!
While the kids were busy picnicking I ventured over to the nearby grave site of the Curtis family where about a dozen family members are buried.  According to the Stafford Parks & Rec website, the Curtis family donated land from their farm to the county to be used for recreational purposes.  The park opened in 1975 and is getting ready to have a big 40th anniversary celebration this weekend on June 20th.  We're excited to come back for the big celebration and swim in the pool I grew up in!
My mom worked tirelessly to implement new amenities and improvements to the pool and programs, which created positive publicity in the local media.  Here are just a few of the fun ideas she implemented over the years:
She updated the baby pool to include zero-depth entry and water splash umbrella
In 1990, she brought a 3-meter inflatable slide to the deep end, which was a huge hit with patrons but a big pain to her staff.
With scorching temperatures in 1991, she dropped in five 300-pound blocks of ice to try to cool things off.
My mom worked as the Aquatics Director of Stafford County from 1981-1993, where she managed the area pools and Aqua Po Beach, but was most proud of teaching swimming lessons to the area's youth.  She met life-long friends and gave several teenagers their first jobs as lifeguards; we were honored to see some of those same teenagers and former coworkers again at her funeral service.  I am forever grateful for the memories I have at this park and can't wait to come back this weekend for the 40th anniversary celebration, which happens to coincide with my mom's birthday.
Thumbs up: beautiful pool and picnic settings, fun nature trails, one park with EVERYTHING
Thumbs down: I remember little shade around the pool