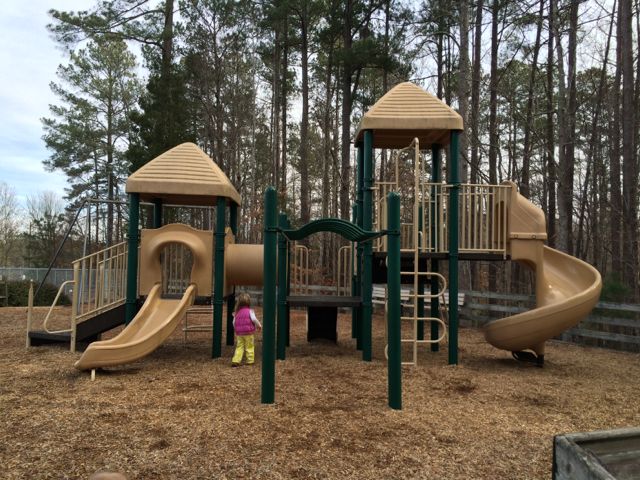 One sunny morning this winter we headed out to Cary for haircuts followed by a visit to the nearby Robert Godbold Park.  I'm always impressed by the Town of Cary parks and despite being an older park it packed the fun.
Robert Godbold Park is located at 2050 NW Maynard Rd between Harrison Ave and Chapel Hill Rd in Cary.  It has several pockets of parking lots to choose from depending on what activity you're looking for – basketball, tennis, playground/picnic, dog park, or skateboarding.  We headed over to the playground, which has one large jungle gym over mulched surface.  The jungle gym was safe enough for both ages (18months, almost 4yrs) to use – it has shorter steps to the smaller slides that are connected via a tunnel and more steps to the larger slide.  The playground also has several climbing structures, a fireman pole, and monkey bars.  Two tot swings, two regular swings, a small sandbox, and public restrooms are also located in or near the partially fenced-in playground area.  Six tennis courts with picnic tables and a gazebo are within eyeshot of the playground too.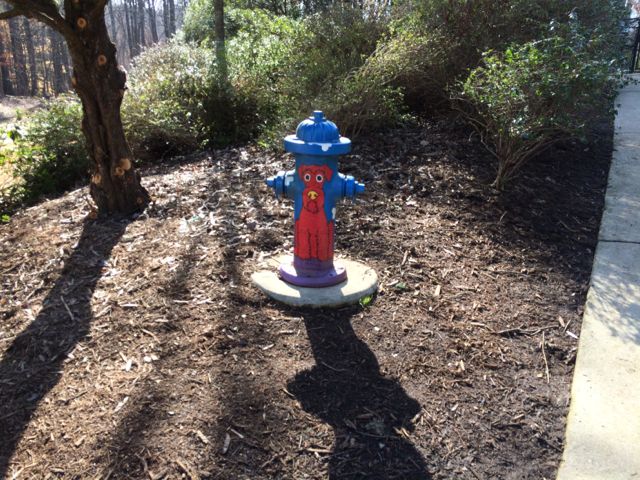 After exhausting the playground we walked over to the basketball courts to run around some more.  We had a quick snack on the nearby picnic tables and then ran through the woods a bit before walking to the adjacent skate park to check out all the construction.  The skate park was temporarily closed for renovations, but according to the Sk8-Cary website it might have reopened by now.
After the backhoes, diggers, and small motorized dump trucks lost their appeal we walked over to the dog park to visit with the pups.  This off-leash dog park requires a membership and young kiddos aren't allowed in so we watched from outside the gate.  The girls also enjoyed the colorfully painted fire hydrants located outside the dog park.
If you're accessing this park by foot, there's a pedestrian crosswalk and sidewalks along both sides of NW Maynard Rd.  This park is also located along the Black Creek Greenway with access to the Northwoods Greenway.  In searching online for more information about the park's namesake, Robert V. Godbold, I learned that he passed away in 2013, but seemed to have lived a full life – owned a general contracting company that built homes throughout the Triangle area, served on the Cary Town Council for 18 years, was a long-time church member, served on the Cary Volunteer Fire Dept for 20 years and was married for 58 years with a large family.  It's wonderful when the legacy of a community leader like Robert Godbold can live on through the happiness of a park.  Read more about Robert Godbold's obituary here.
More Resources
Thumbs up: proximity of park's amenities, safe pedestrian crossing over Maynard Rd
Thumbs down: nothing to report