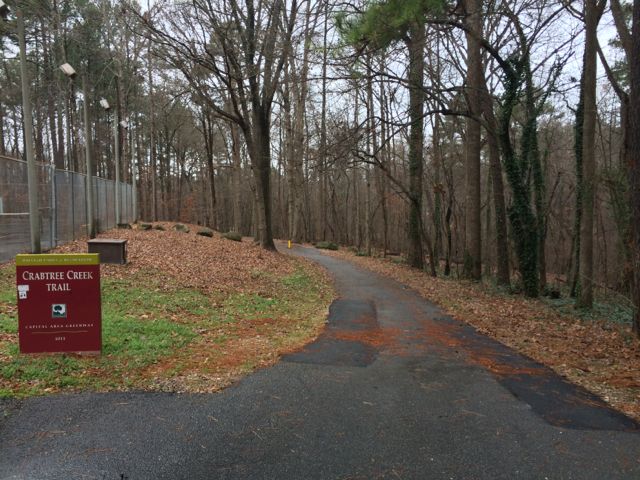 Have I mentioned that we spent a lot of time on the greenway this winter?  So, here we are again, exploring a new (to us) portion of the Capital Area Greenway on the Crabtree Creek Trail from North Hills Park to Lassiter Mill Park (about 2.5 miles round trip).  We started at the greenway entrance at North Hills Park (100 Chowan Circle) so the girls could run out some energy at the playground afterwards.  If you've never been on this portion of the greenway, I'm forewarning you that the hill from the parking lot to the greenway is extremely steep, but the trail levels out at the bottom.
After we ever-so-slowly pushed the double stroller down the hill we turned left to follow the trail east under I-440.  The greenway wasn't particularly busy this morning and running under overpasses tends to creep me out, so I'm glad Bill was with me.  Shortly after passing a bridge and access to Alleghany Dr, we saw mile marker 12.  Based on the placement of mile marker 12 on the greenway it seems the placement of mile marker 12 on the COR greenway map is too far west.  This portion of the trail is sandwiched between Crabtree Creek and beautiful residential homes.  The recent heavy rains caused the creek level to be pretty high, so between the rushing water and neighborhoods we all had nice things to see.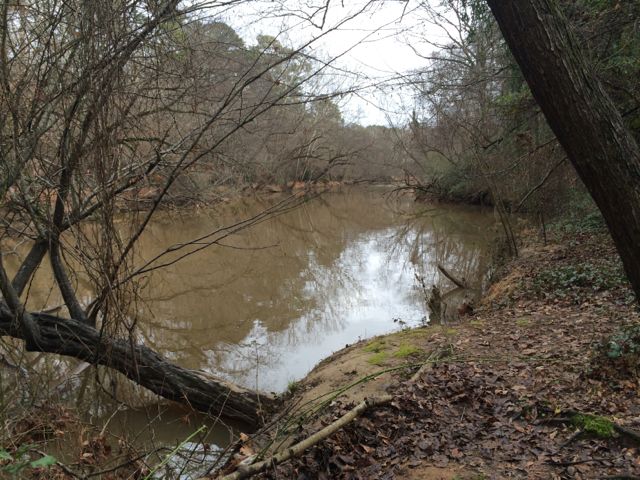 Then shortly after passing mile marker 11.5 the trail abruptly becomes unpaved and very narrow.  In hindsight we should've taken one of the Alleghany Dr access paths, but there were no signs beforehand to indicate strollers or bikes wouldn't be able to pass up ahead.  So, we continued on the unpaved trail for a short time, all the while traversing over tree roots and narrowly squeezing between the creek and neighborhood roads above.  When it seemed impossible for the double Bob to continue on, I ran up ahead to see how much further until Lassiter Mill Rd.  At the end of the unpaved trail there is a set of stairs leading to Hertford Rd.  Take a left onto Hertford Rd and follow it along behind Root Elementary School and then cut over to Lassiter Mill Rd.  Turn left onto Lassiter Mill Rd where you'll soon see Lassiter Mill on the left and Crabtree Creek Trail on the right.
While the signage on this portion of the trail is less than desired, the scenery along the creek is serene and enchanting.  Before you head out, review the greenway map or bring along your phone with GPS and/or utilize the RGreenway app.
Thumbs up: scenery along trail
Thumbs down: lack of signage alerting to unpaved trail ahead, narrow trail