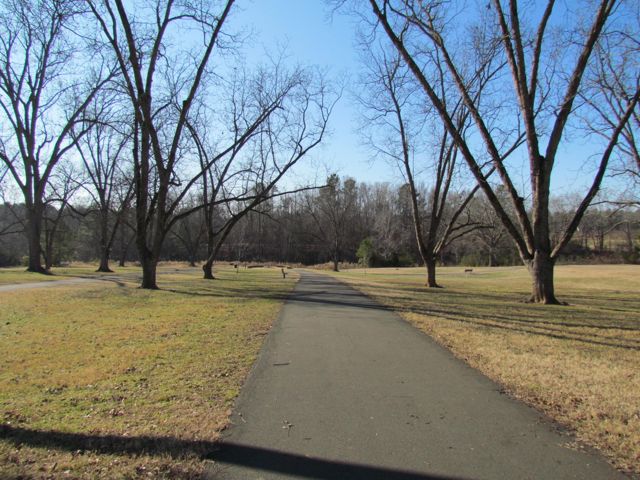 With our red wagon and balance bike in hand, we headed out on a clear, sunny winter day to explore E. Carroll Joyner Park in Wake Forest.  E. Carroll Joyner park is located about 20 minutes from Raleigh, just off Rte. 1 at 701 Harris Rd.  Upon arriving into the park you immediately notice the expansive rolling fields and stone ribbon wall.  Follow the main road towards the back of the park where you'll find the parking lot.
After parking we studied the information board to better understand the park's layout.  With over 100 acres, this park has a lot to offer: three miles of paved trails, grass amphitheater, a pecan grove, farm buildings, a perennial garden, and a performance garden.  We spent most of our time walking and biking on the paved trails, which proved to be great balance bike practice for Ashley; the rolling trails are wide with gradual declines and park benches and swings along the way for resting.  The trails have great visibility, which is necessary for inexperienced young bikers who swerve all over the trail.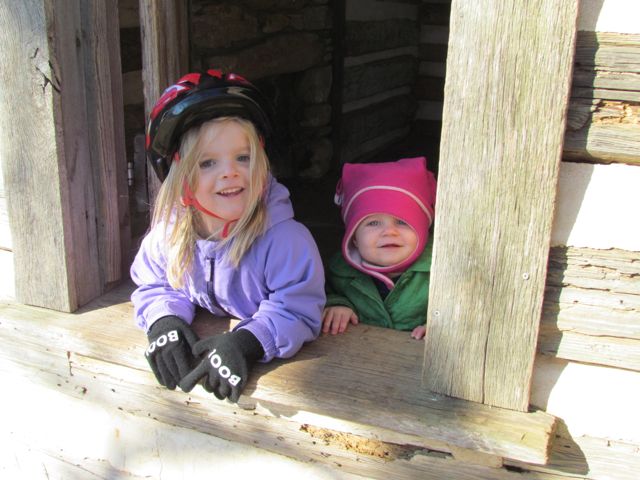 Along our walk/ride we passed several beautiful settings including the refurbished farm buildings.  This park was originally a working farm as recently as the 1940s, owned by the Walker family who grew produce to sell to local merchants.  It was sold to E. Carroll Joyner who raised cattle until the 1990s and then bought by the Town of Wake Forest in 2003 and opened as a public park in 2009.  The original farm buildings include a tobacco barn, log cabin, chicken coop and mule barn.  The girls had a fantastic time exploring the different buildings, especially the chicken coop.  Several of these buildings and the nearby settings also offer great photo opportunities.
After exploring the old buildings we followed the trails south around the pond.  We continued along the greenway past the pond, but after consulting the GPS we turned around since it was going to take much longer to get back to the parking via the greenway.
Before heading to the car we stopped for a short picnic at one of the bench swings and then stopped for a quick bathroom break in the very clean and comfortable public restrooms.  Make this park a must-visit for 2015 – whether walking, biking, running or out for some photography this park is your setting!  It's also part of the Kids in Parks Track Trails program which encourages kids to have fun outdoor adventures.
Thumbs up: trails, photo ops, farm buildings, gardens, beautiful settings
Thumbs down:  greenway signage