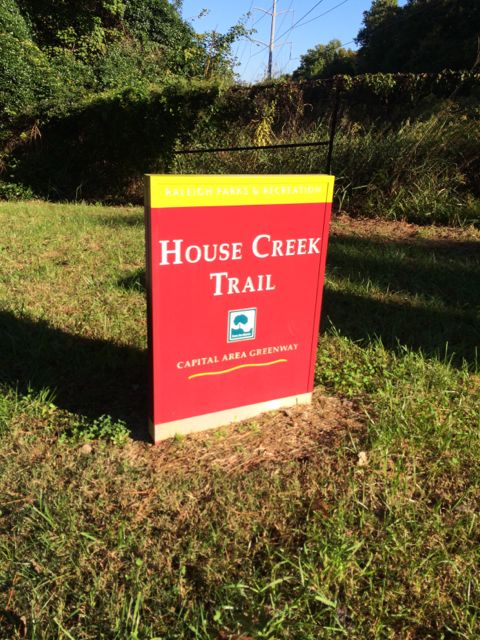 Even though the House Creek Trail was completed only 2 years ago, the trail's history dates back to 1973 when it was a mere 350ft unpaved foot path and the foundation of the Capital Area Greenway.  House Creek Trail is a north/south connection between Reedy Creek Trail (near Meredith College/Wade Ave) and Crabtree Creek Trail (near Crabtree Valley Mall).  Having explored all other parts of House Creek Trail, I was excited to visit this last stretch and get some more mileage in before the City of Oaks 10k back in November.
I parked in the residential area (Leonard St/Ridge Rd intersection) behind the Ridgewood Shopping Center and then walked on the sidewalk toward Wade Ave to start at the end of the trail, which is mile marker 2.9.  The trail parallels Wade Ave for awhile before heading straight uphill towards the NC Museum of Art.  Before crossing the 440-beltline pedestrian bridge, bare right at the House Creek Trail sign and proceed with caution down the steep hill.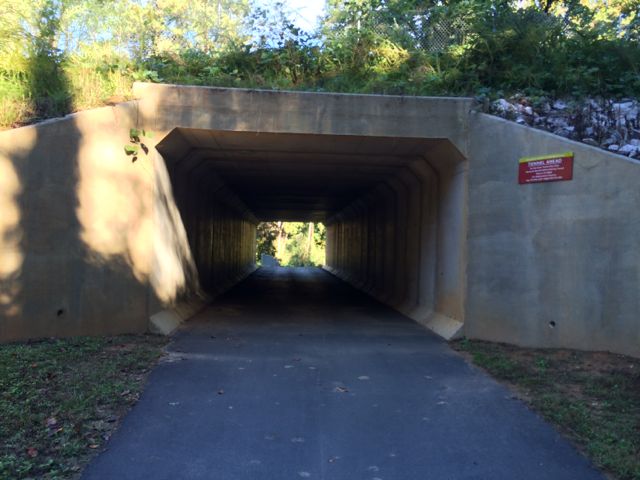 This greenway parallels the eastern side of the 440-beltline until the pedestrian crossover at Glen Eden Rd.  Even though you can hear and see the 440-beltline traffic, with the expansive tree lines on both sides of the trail, I sometimes felt like I was miles away in middle earth.  Occasionally I passed other bikers and walkers, but for the most part on this chilly October morning it was just me and Claire.  Before coming to the Lake Boone Trail tunnel, we passed the small Horton St apartment complex and a designated greenway parking lot located behind Martin Middle School.  It was around this time (mile post 2.0) that I also spotted a random basketball pole and hoop in the nearby creek, making me question the history of this area.
Continuing on, we spent some more time going uphill and navigated through the tunnel underneath Lake Boone Trail.  There are huge rock piles and large drain pipes here to help with drainage since this is a rather hilly spot.  We continued on a bit further and came upon an information plaque highlighting the original House Creek Trail and more details of the history of the Capital Area Greenway.  This part of the trail is relatively flat, which was a comforting change (see my elevation change photo below) so we continued on until the tunnel at Glen Eden Rd (approx mile post 1.25) where we turned around.
Having explored all of House Creek Trail now, I can say that I enjoy the flatter stretch of the trail from Glen Eden Rd to Crabtree Valley Mall, even though this probably better prepared me for the hilly City of Oaks run!
More Resources:
Thumbs up: scenery, safety, wide trails
Thumbs down: beware of the hills