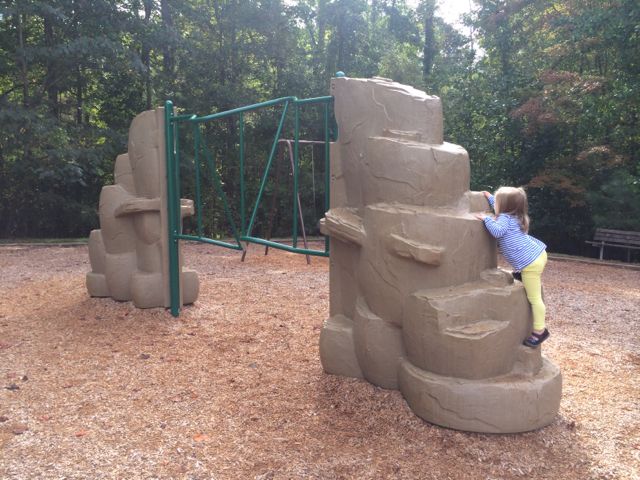 I spent some time again this fall running around Lake Lynn with the girls while training for the City of Oaks 10k race.  After a few laps around the lake we spent time at the playground so they could get their own exercise.  We were pleasantly surprised to find a few updates to the playground area.
Lake Lynn Park & Community Center is located in North Raleigh and has two entrances.  If the kids are with me I'll park at the main entrance near the community center and playground off Ray Rd, but if I'm going there for a solo run I'll park at the smaller entrance with immediate access to the trails off Lynn Rd.
The tot playground area has a new climbing area with a vertical climbing bridge sandwiched between two rock walls, which was a big hit for Ashley.  The older tot swings and small tot jungle gym and bigger kid playground haven't changed.  Adjacent to the playground is a new large pavilion with about 12 picnic tables, making it a great spot for group gatherings and birthday parties!  The nearby bocce ball courts also seemed to have gotten a small facelift and there seem to be several more picnic tables scattered around the perimeter of the playground.  There's a lot of other amenities at this park (baseball fields, tennis courts, batting cages), but having a playground area near a covered picnic spot and restrooms is usually what we're looking for these days!  Most recently we enjoyed a Halloween party with our Stroller Strides friends where kids of all ages enjoyed the playgrounds and there was easy access to the nearby pavilion and community center.
More Resources:
Thumbs up: proximity of playground area to pavilion/community center
Thumbs down: nothing new to report