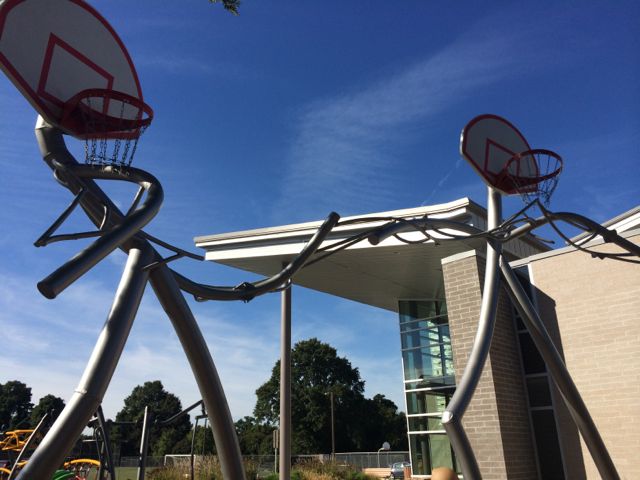 The gorgeous fall weather this season prompted several repeat visits to our favorite parks, Halifax Park & Community Center being one of them.  Thanks to a comment from one of my blog readers, this park underwent a few updates since my Aug 2014 review that elicit photo and amenity listing updates.
Halifax Park & Community Center is located at 1015 Halifax St near the Seaboard Station area.  I was pleasantly surprised to see some much needed picnic tables near the community center where the girls and I were able to enjoy our picnic lunch.  Another interesting addition to the park is an interactive art piece called "Hoops Playing Hoops" by artist Chris Fennell of Birmingham, AL.  It's a tall group of basketball hoops connected by steel pipes that make them seem like they're playing basketball together.  Once you make a basket in one of the hoops, the ball will travel down the ramp to another hoop.  The girls had so much fun watching me make attempt after attempt to score a basket – it's much harder than it looks.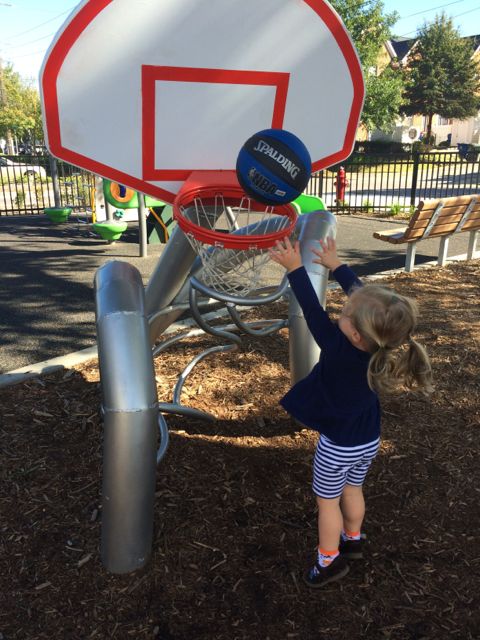 There's also a separate smaller basketball art sculpture for the younger kids.  The girls had such fun shooting baskets and watching the ball spiral down the ramp.  If you forget your basketball or don't have one, the friendly staff at the community center will let your borrow their ball.
If you haven't visited this park yet, just do it!  There's plenty for kids of all ages to do and the convenience of the community center is invaluable!
More Resources:
Thumbs up: partially fenced-in playground, play areas for all ages, interactive basketball art sculpture, new picnic tables
Thumbs down: nothing new to report