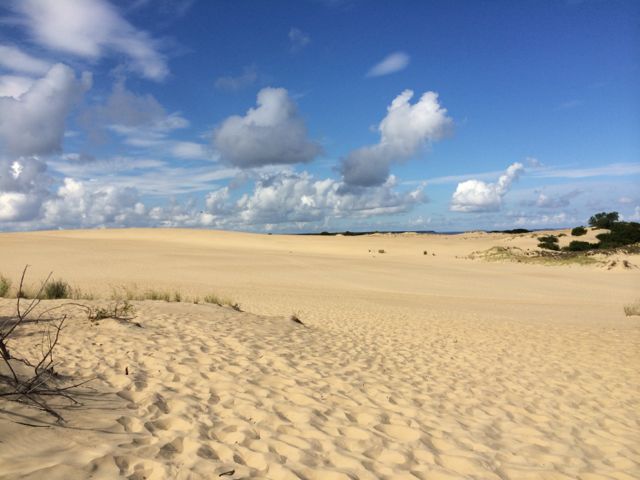 For the first time in our 10 years of vacationing in Nags Head, we finally paid a visit to Jockey's Ridge State Park.  Jockey's Ridge is the tallest natural sand dune system in the eastern US.  It is located at 300 W. Carolista Dr in Nags Head (MP 12) on the sound side of HWY 158.  Having never been to a desert or sand dune park before, I was blown away by the massiveness of the dunes; if a herd of camels had passed by, I would've forgotten we were in NC!
Jockey's Ridge sand dunes vary in height of 80 to 100 ft and is believed to have been formed when hurricanes or strong northeasters transported sand inland from offshore islands.  The rich history of this area started with the Algonquian Indians and was further explored by European settlers.  Jockey's Ridge became an official NC state park in 1975 only after the strong efforts of Carolista Baum (read more about the history of Jockey's Ridge).  Today, the non-profit group Friends of Jockey's Ridge also provides support and brings awareness to the dunes.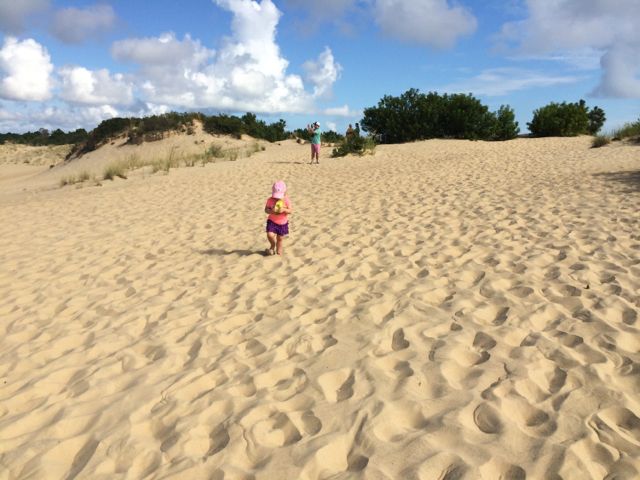 Unfortunately, our visit to Jockey's Ridge did not go as swimmingly as I would have liked.  As with most things I plan with two small children, my expectations exceed reality and this was one of those examples.  Knowing the sand is at least 10 degrees hotter than the outside temperature we got an early start to our trip and were in the parking lot area by 9:30am.  After a short stop inside the visitor's center, Bill and I set off with both girls to find the top of the dunes.  We made our way to the end of the wooden walkway near the large group of visitors that were catching their breath from just coming off the dunes.  We followed some of the other visitors along the loosely marked Tracks in the Sand trail.  We made it up a few small hills and discovered several animal tracks, but on our way up the large dune our sweet 3yr old retreated down the hill exclaiming, "My legs are too tired!"  Rather than continue climbing with Claire in the carrier while Bill was 100 yards away on a work conference call (great reception, fyi) I scooped Ashley up and proceeded downhill.  Looking back, maybe this trip was a bit premature for this young group, but a little character building never hurt anyone; and, Ashley loooved recounting the story about how tired her legs were throughout dinner later that night!
I hope to make it back to Jockey's Ridge for some solo hang gliding during our annual trip in May; the kiddos will have to enjoy my stories and pics instead of another first-hand experience!  I look forward to some family kite flying when everyone is at least 5 years old!
Thumbs up: gorgeous views (I bet they're even better from the top)
Thumbs down: learning the hard way that my young children do not tolerate sand dunes