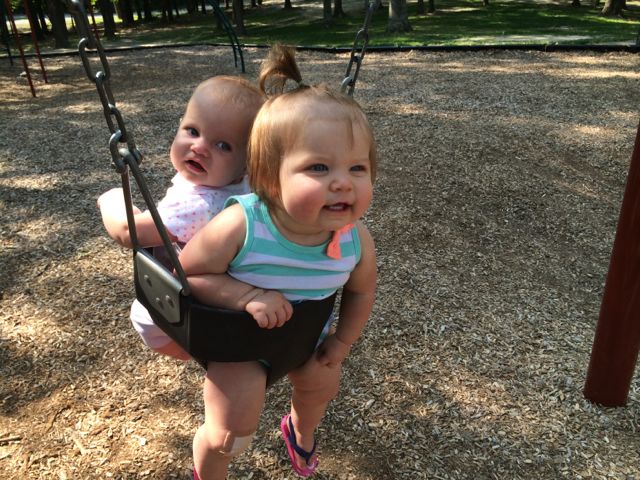 During a recent family visit to Ladysmith, VA I inquired about the local parks, to which I heard crickets in response.  After an unsatisfying trip to the Caroline Parks & Rec website, I talked to my sis-in-law who is a teacher in Caroline and she remembered there being swings near the high school.  So on Sunday before heading home to Raleigh my sister and I met up with my sis-in-law and her daughter at Caroline County Park.
Caroline County is a small county of less than 30,000 people, but one that is steadily growing in businesses and population.  Caroline County Park is located across the street from Caroline Middle School around 13690 Devils 3 Jump Rd.  For a small town with assumingly small recreation funds, I was pleasantly impressed with the features of this park; however, the general upkeep needed some attention.  The park has a large shelter pavilion with horseshoes, a shaded walking trail, a skateboarding park, a playground area with swings, baseball fields, tennis courts, soccer fields, public restrooms, and ample parking.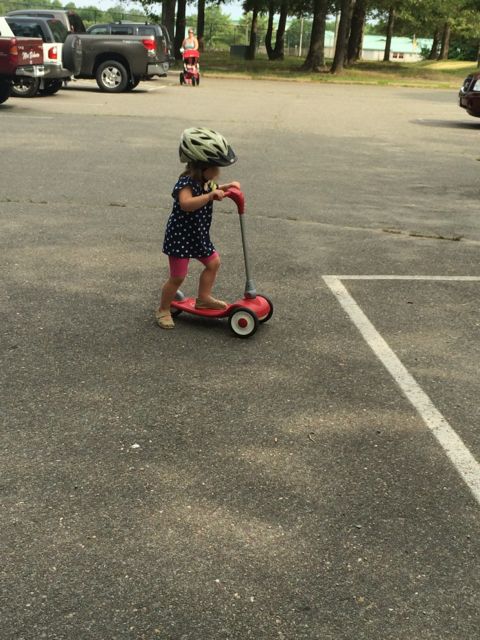 The pavilion area was great in that it could hold large family gatherings with nearby parking, but the amount of trash scattered throughout the area was disturbing.  In reality, the problem seemed to be that the trashcans were light enough to be tipped over by small animals so some heavy duty trashcans with lids would probably solve that problem.  The nearby horseshoe pit and sand volleyball court would probably get more use if they were raked and maintained more frequently.
The nearby playground area was the big hit for our little crew.  It has a tall double slide, large climbing structure, one tot swing, one handicapped-accessible swing, and several regular swings.  Claire enjoyed sharing the tot swing with her sweet cousin, Emma!  The playground area has great shade cover, but plan to bring mosquito repellent next time – we left with quite a few bites.
After the playground we headed over to the skateboard park area to check it out.  By this time the skateboarders had left so Ashley brought her new (to us) scooter in to wheel it around.  After the scooter lost its appeal, she enjoyed running up and down the skateboard ramps.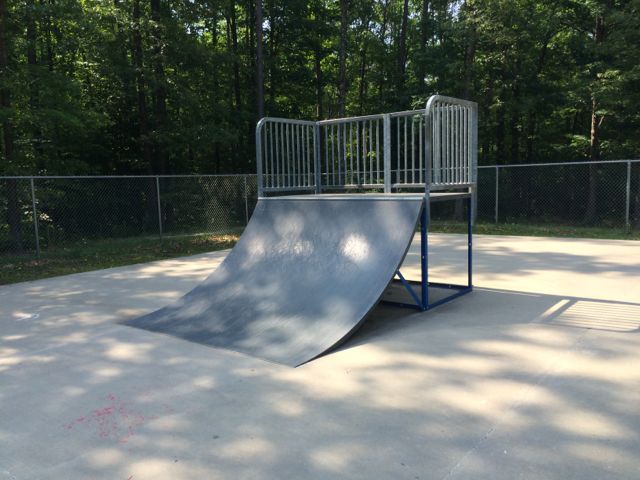 All in all, this park had several great features despite some maintenance needs.  And, it was nice to see so many people enjoying the soccer fields so early in the morning.  Hopefully as the county continues to grow, more people will visit the local parks and draw more attention to what fun kids can have here!
Thumbs up: playground area, variety of features, skateboard park, shadiness
Thumbs down: general maintenance, waste pickup, lack of informative Parks & Rec website advertising the great features of this park