We had a jam-packed spring break staycation this year with trips to local parks, dance class, and a visit to Fearrington.  The beautiful weather stayed around all week and one day we met some dear friends in Cary at MacDonald Woods Park.
MacDonald Woods Park was our second choice for a park after we learned that Marla Dorrel Park was closed for renovations; lucky for us, MacDonald Woods Park was a short 2 mile car ride from Marla Dorrel.  MacDonald Woods Park is located at 1601 Seabrook Ave and is connected to Marla Dorrel Park via the Hinshaw Greenway, which is part of the pedestrian bridge that crosses US-64 highway. This park has on-street parking and sits below the road so it seems rather hidden at first, but based on the amount of people it's a popular spot!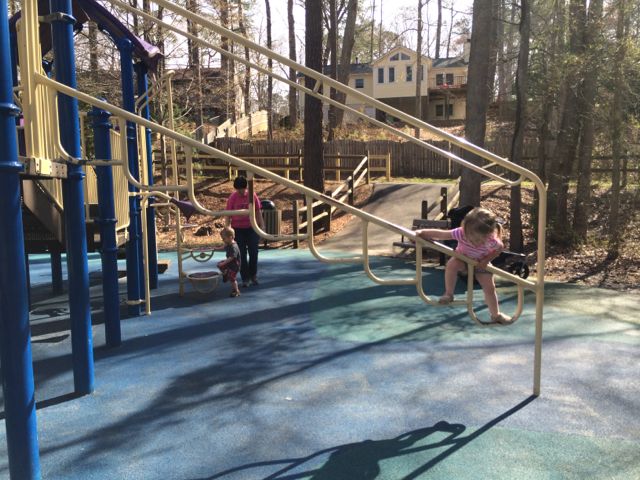 MacDonald Woods Park has playground areas for the 2-5 and 5-12 age groups with two swings for both groups. The 5-12 age playground is rather large with several ladders and slides, monkey bars, and climbing wall with rope. The loop-shaped ladder was by far a challenging favorite for this duo. The younger playground is very small with only 2 slides, steps and a platform ladder. There are a few bouncy rides and a small low-to-the-ground structure for early walkers. A small elevated sandbox is located between the two playground areas. But, by far, the best feature of this park is the merry-go-round. Yes, that's right…they have a merry-go-round! Go Cary! Of all the parks we've been to this was a first so you can imagine the confusion when the girls first saw it. Having never been on a merry-go-round they watched several groups of people get on and off before getting on with a group of toddler girls. These sweet maniacs quickly caught on as to why you hold on to the bars but also moved into more challenging feats such as dangling their feet over the edge. That proved to be rather anxiety-ridden for us but they had fun and no one went flying off the thing, so it was a success!
After some playground time we had a picnic in the grassy area near the basketball court and then explored the nearby paved trails to the bridge and open grassy field. After some more trail exploring the girls were pretty exhausted so we headed home. I'm not sure if it was the fact that kids were out for Spring Break but I've got to think this park is naturally popular with its fun features and entrance to Hinshaw Greenway.
Additional resources: Hinshaw Greenway, MacDonald Woods Park
Thumbs up: merry-go-round, nearby creek to explore, landscaping
Thumbs down: small tot playground, few picnic tables