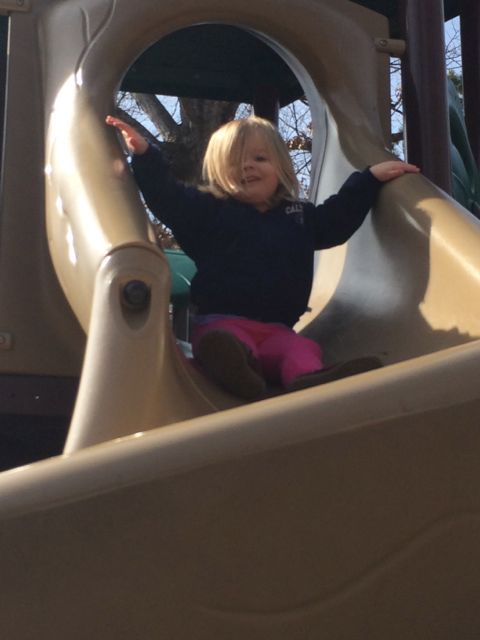 Despite Lions Park being located in a transitional east Raleigh neighborhood, we found it safe, full of friendly people, and lots of fun!  Lions Park is located at 516 Dennis Ave in the east Raleigh Woodcrest neighborhood.  This park has several entrances, which provides easier access and parking to whichever activity you're looking to try; and this park has a lot going on.  Besides the main playground area, there are four baseball fields, two full-size basketball courts, a dirt BMX track, a community center, eight tennis courts, and a large pavilion for rental.  While we didn't have much time to capture the details about everything we did spend a lot of time on the playground.
The playground area at Lions Park is easiest to access from the Dennis Ave entrance that spills into a large parking lot area near the community center.  This park has two playground areas for the different age groups 2-5 and 5-12, which are both have a rubberized surface.  The 5-12 age group playground is one of the largest I've seen in Raleigh.  It has multiple levels of playing with several slides, climbing structures, monkey bars, tethered rope swings, and bucket chairs for spinning.  Ashley spent most of her time on this playground and even tried the curved ladder structure by herself for the first time (eeks)!  Even though she's much younger than the recommended age for this playground I felt comfortable with her exploring on her own since there were very few high openings within the structure.  The big kid swing set and sandbox are also located nearby.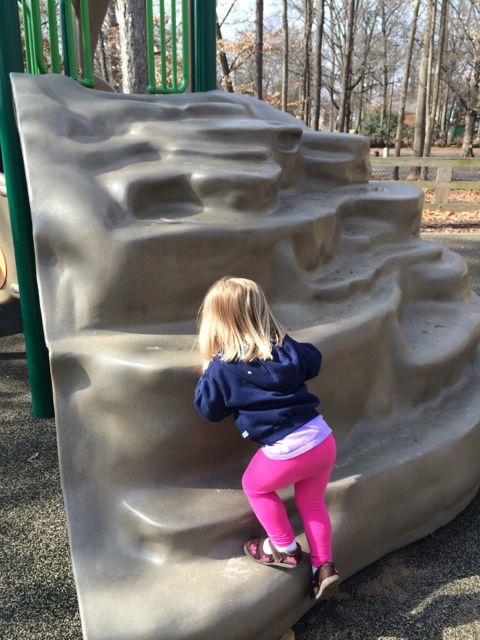 The 2-5 age group playground is a short walk from the bigger playground.  It has a fun climbing wall, a few slides, twisty toys, the dreaded butterfly shaped ladder which is too young for a 2-year old in my opinion, a seesaw, tot swings,  and bongos.
After a short jaunt on the tot playground we sat down for a picnic lunch.  Even though the playground areas are newer, the picnic spots and pavilion are showing their age (and a mossy roof).  Nonetheless, we found a sunny spot (it was January) in the moderately wooded pavilion area.  Adjacent to the pavilion are horseshoe pits, which had also seen better days.
Despite this park's older age and its location, it has pockets of great features such as the playground, BMX track, and tennis courts. We even recently went to a birthday party here and it was super convenient to have the pavilion next to the playground.  I look forward to going back for a visit where we can scope out the BMX track, which should provide fun entertainment for Ashley and maybe get her excited to practice on her balance bike some more!
For more information about Lions Park, visit City of Raleigh website.
Thumbs up: playground areas, unique BMX track feature, spinning bucket seats, tot climbing wall, convenient benches scattered throughout playgrounds, wooded playground area would be nice for hotter weather
Thumbs down: condition of pavilion area