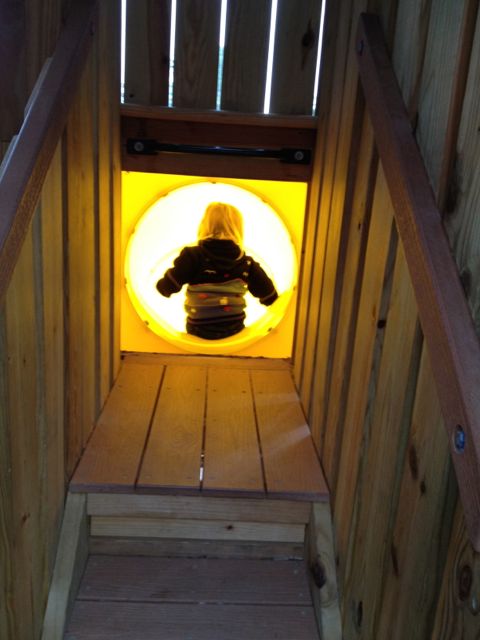 We are fortunate to have a great group of moms and kiddos through Stroller Strides of Midtown Raleigh to explore local parks with and a trip Knightdale Station Park last fall is no exception.  Knightdale Station Park is located at 810 North 1st Ave just outside 540 and south of US-64 business in Knightdale.
This park has a bit of everything – walking trails, large playground areas for kiddos under 2, ages 2-5 and ages 5-12, a dog park, and athletic fields.  We spent most of our time exploring the various playground areas, where all boast a farming/barn theme.  The playground area designed for ages 5-12 has a large play silo with a steep enclosed slide.  A spiral staircase is enclosed in the play silo, so if you have adventurous younger children, make sure they use extra caution.  Other than the play silo, this large playground has monkey bars, wide wheelchair-accessible ramps, smaller slides, and other climbing structures.  The nearby tot playground for ages 2-5 is a train with tunnels, slides and climbing structures.  It's rather small for a tot playground, but the adjacent corral with bouncy horses and spinning cups provides some more activities for the young ones.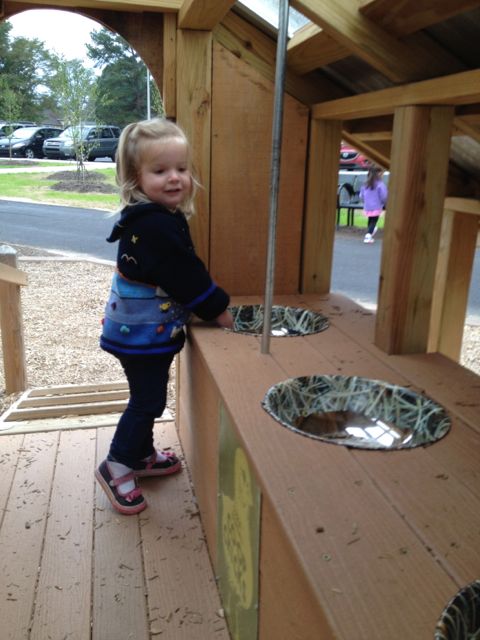 Ashley's favorite play structure at this park was the play chicken coop designed for ages under 2.  She loved throwing mulch down the egg shoot for her friend to catch at the bottom.  This play area is covered and great for early walkers as kids can access it by a small ramp or short steps.
Scattered around the playground areas are benches, tot swings, regular swings, a large faux tire swing, mushroom stools, twirling structures, and sandbox with large tractor tire.  The different playground areas are joined by concrete sidewalk paths and covered with shredded bark.  A large pavilion with picnic tables and separate restroom building are also near the playground as is a walking/running trail.  Finally this park also has several athletic fields and an off-leash dog park with separate small and large dog areas.
For more information about this park and future plans visit the Town of Knightdale website.
Thumbs up: unique farming themed play areas, all ages incorporated into play areas, walking trails adjacent to playground
Thumbs down: climbing enclosed staircase in silo is a bit scary for little ones, young landscaping yields little shade