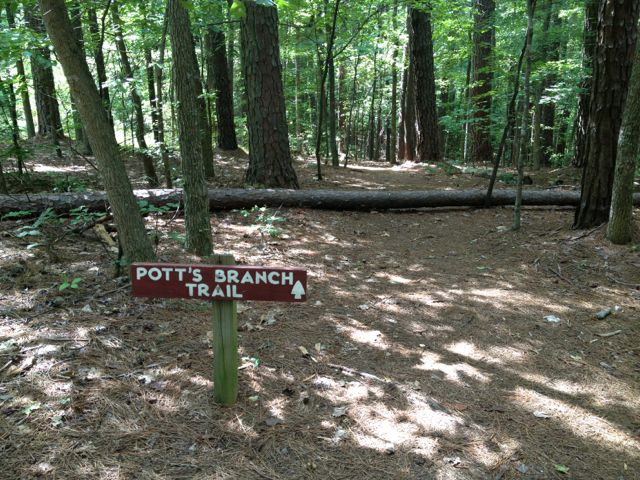 At the end of last summer we ventured out for some hiking at Umstead Park.  Since Claire was only about a month old at the time, we wanted to keep it pretty easy so we explored Pott's Branch Trail, which is only 1.6 miles and easy on the difficulty scale.  To get to Pott's Branch Trail, use the park entrance at 8801 Glenwood Ave and continue straight to the back of the park where you'll come to a large parking lot.  We parked in the larger, two-level parking lot and after a lot of configuring backpacks and bjorns we set off to find the trail head.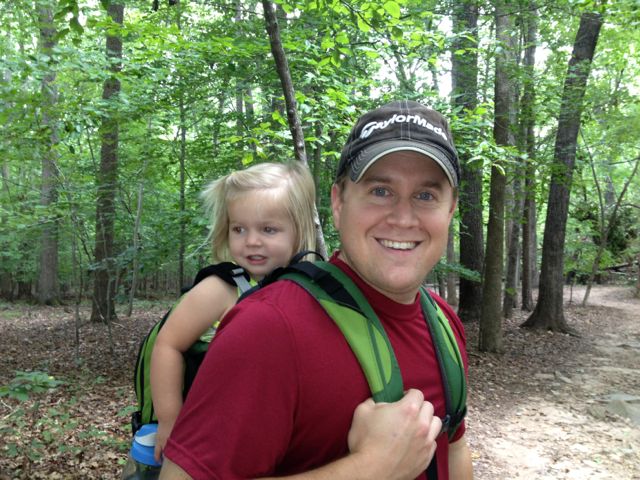 For some reason, even for two directionally-sound people we had a hard time finding the trail head for Pott's Branch Trail.  From what I remember the signage was horrible and after a lot of stumbling around, we eventually found it.  Lucky for us, this is small looped trail so regardless of where we got on, we'd eventually get back to the parking lot.
Raleigh had a very wet summer last year and the trail was evidence of such.  Portions of the trail parallel a small stream, which had debris filled branches indicative of higher water levels.  There were also some large downed trees and muddy areas, which made us think the stream must have risen over the bank in areas.
The trail itself was very easy; other than a few downed trees that we walked around and large tree roots along the way, the trail is very flat and comfortable for most any fitness level.  Along the way, you'll pass a large wooden deck, picnic table and small grill, and roads in the very far distance.  Since this trail is on the opposite side of the road from Big Lake, you won't see any large bodies of water, but the flowing stream offers some interesting views and holds the attention of toddlers!
Thumbs up: quick and easy hike, nearby stream, wide and shady trail
Thumbs down: poor signage from the parking lot to trail head

Sal's Branch Trail Photo Update
Labor Day weekend my sister and brother-in-law visited so we headed back to Umstead Park where we hiked Sal's Branch Trail again.  Be sure to read my first review of that trail, but again, I love that it's a good distance (2.75 miles) and has nice views of Big Lake.  We got such an early start on the hike that we were able to grab lunch to go from Moe's and visit the nearby Gizmo Brew Works for some much needed beers and a picnic lunch! Gizmo Brew Works is nestled in an industrial park off Glenwood Ave and has an array of inside seating (couches, tables) and some picnic tables outside. Albeit, probably not designed to bring kids, but we made it work! They don't serve food, but we're fine with us bringing outside food so plan accordingly.
Helpful Links: