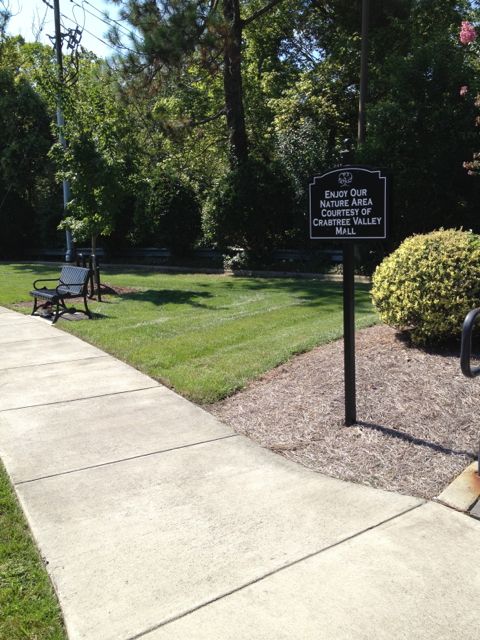 When Claire was about a month old, I felt good enough to go on a short jog so I returned to an area I was very familiar with – House Creek Trail.  We parked at Glen Eden Pilot Park and made our way down House Creek Trail towards Crabtree Valley Mall, which is a distance of 1 mile. What was supposed to be a short out and back jog turned into a longer outing with a visit to the mall because the girls were being so well behaved.
When we got to the end of House Creek Trail, we crossed over Blue Ridge Rd and then turned left onto Crabtree Creek Trail, which parallels Crabtree Valley Ave behind the mall.  It seems as if the pedestrian access to the mall has gotten much better since the last time we jogged this trail.  There's a pedestrian bridge over the creek and some nearby grassy areas that would make a good place to walk a dog or have a picnic.  All of this great pedestrian access will come in handy when the mixed-use project across from the mall is complete.  When we were there last summer, a lot of dirt was being moved around, so I'm sure it's made much more progress since then.  For more information about this mixed-use project read the article by Triangle Business Journal.
The other in-progress project we passed while on the House Creek Trail is the large Marshall Park apartment unit community.  This is the project you can see from the belt line with the massive brick retaining wall.
Before returning to our car, Ashley enjoyed some play time at the Glen Eden Pilot Park playground, which was more suitable for her now that she's a little bit older.