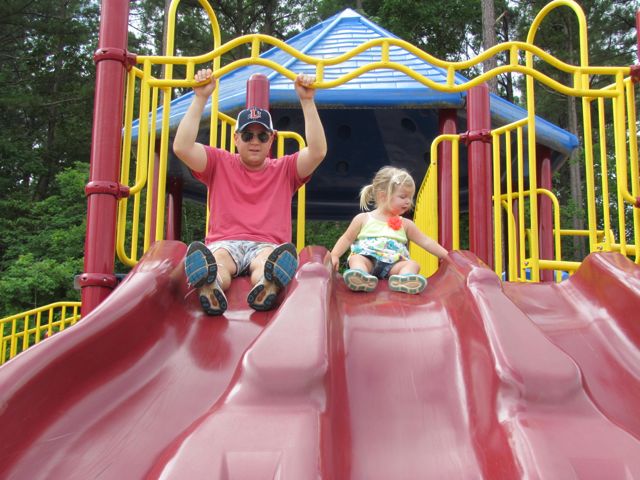 The final park we explored as a family of three was Honeycutt Park in North Raleigh.  Knowing that baby #2 was cozy and not giving any hints to arrive anytime soon (still late though), we ventured out to Honeycutt Park on the Sunday morning before baby Claire was born.  This park is located at 1032 Clear Creek Farm Dr just outside 540 near Falls of Neuse Rd.  For a Sunday morning in Raleigh it was par-for-the-course quiet; we had the park to ourselves for at least 30 minutes.
The playground area is completely unshaded, so plan accordingly if you're trying to avoid the sun.  There are playgrounds for both age groups of 2-5 and 5-12.  The 2-5 age playground has several slides and few challenging climbing structures for the little ones.  It also has a fun "theater" play area under the playground, which can be fun for the young ones.  Ashley quickly ran through all the play areas at this playground and headed to the older kid playground.  The 5-12 age playground also has several slides, one of which includes a trifecta slide where 3 friends can race each other at the same time.  Since I was feeling too large to race, Bill and Ashley enjoyed several runs down the racing slides.  This playground also has several climbing structures too, which include a rock wall, swivel monkey bars, and a rope ladder.
After a lot of playground time we explored the rest of the park.  Adjacent to the playground is a large shelter complete with charcoal grills and restrooms, lit baseball field, basketball court, and sand volleyball court.  Adjacent to the basketball court and parking lot is a large open grassy memorial area surrounded by large rocks and dedicated to Rosalina M Rodriguez.  Then, we walked down the nearby greenway to learn that it is under construction.  The scope of this greenway project is to design and build a 5.6 mile segment of greenway trail, connecting the existing Mine Creek Greenway Corridor to the South Shore Trail on Falls Lake.  For more information about this project visit the City of Raleigh website.
While this was our last park trip as a family of 3, we couldn't be more excited to share so many future park visits with baby Claire.
Thumbs up: fun playground slides, large shelter, future greenway project
Thumbs down: unsightly utility area, lack of shade around playground