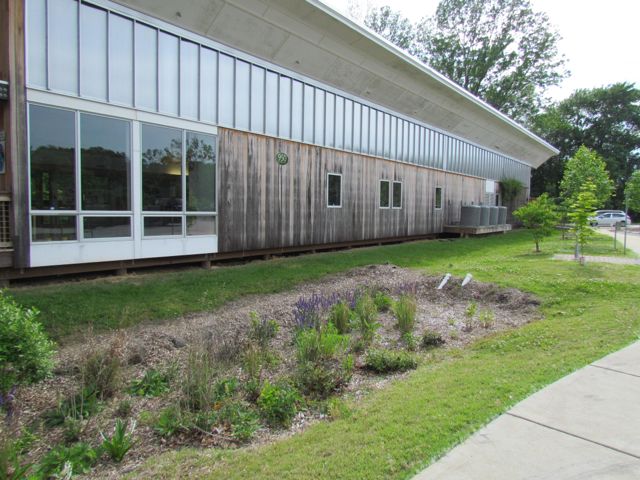 We are always on the lookout for something fun and different to do outside the house especially in the early evenings after nap time. When we attended the Neuse River trail expansion grand opening some folks from the Walnut Creek Wetland Center were there explaining their programs.  I remember them saying their center was open late each weekday, so we finally found some time with our good friends to get out and explore the center.
Walnut Creek Wetland Center is located at 950 Peterson St in downtown Raleigh. Upon arriving at the center, I immediately noticed this center was not in the best area of town.  The center itself is very nice, but all the surrounding parts were less than delightful – there was trash scattered on the nearby trails, apartments across the street seemed sketchy, and nearby fields were neglected.  After getting past that we went inside to explore the center and the girls had a blast.
The mission of the center according to the website is to "Promote the importance of wetlands, wildlife habitat, hydrology, and human interactions with the natural environment."  There are several free educational games, coloring and stamp activities, nature and animal books to read, stuffed animals, and a touch table featuring different wetland animal skeletons, furs, and more.  The staff was very helpful and excited to help show us around the center.  The center incorporates many environmentally friendly features and offers several organized programs for kids of all ages and three rooms available for rental.
After playing inside for at least 30 minutes, we headed outside to the expansive back deck to explore.  Unfortunately we only saw birds, but if you're looking to relax they also have several rocking chairs overlooking the floodplain.  After a lot of running back and forth on the deck we headed out to the greenway to explore some more.  We exited the building and headed west on Peterson Dr and then headed south on the Walnut Creek Trail towards Walnut Creek.  Again, the greenway was moderately littered and we didn't get the impression that we were in a floodplain/wetland area.  We continued on the trail and over a boardwalk to the creek and turned around when we reached State St.  Due to the unkept nature of the trail and the lack of "wetlands" conditions we didn't feel comfortable continuing on.  For future trips, it may be best to register for a scheduled program that explores the wetlands.
For more information, visit the City of Raleigh Walnut Creek Wetland Center website.
Thumbs up: indoor educational programs/activities/displays, being open past 5pm
Thumbs down: condition of trail, lack of wetlands condition, outdoor wetland display was not working, greenway signage