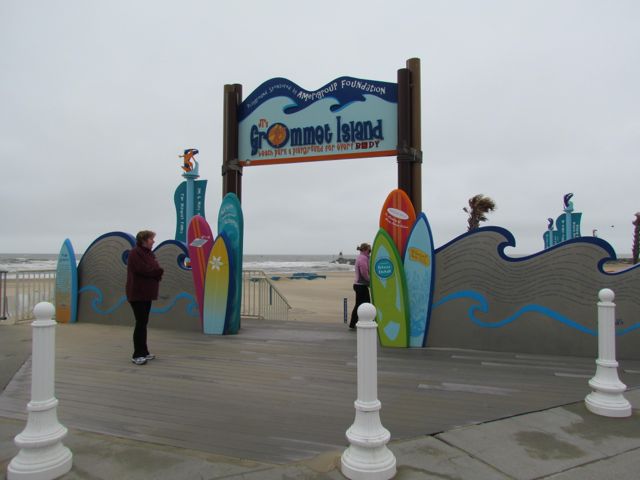 A few months ago we headed to Va Beach for a fun girl trip with my sis, mom and aunt who had flown in from CA.  I rarely get back to that area, but have lots of fun memories with trips when we were young, high school field hockey state championship games, and the Wicked 10K race a few years ago.  Even though the weather was super chilly and a bit rainy we still found some time to explore a nearby park, which happened to be oceanfront.
JT's Grommet Island Park is located at 100 2nd St just before you reach Rudee Inlet.  Parking in this area is always a challenge especially during the high season.  There is a full day pay parking lot adjacent to the park, but if you're just planning to stay for an hour or two it's best to park on the street and pay by the hour.  JT's Grommet Island Park is a special playground in that it gives everyone, regardless of their abilities, a place to play at the beach.  The park opened in 2010 and is 100% handicap accessible – the surface is made of hard rubber to allow wheelchairs to easily maneuver, the ramps on the jungle gyms are wide enough for wheelchairs, the sandbox play areas are unique and accessible for all folks, and there is a wheelchair accessible teeter totter.
Despite the rain, Ashley had a fun time jumping and bopping around the playground.  Knowing that Ashley has a short attention span when playing at the beach, having a playground at the beach would make for happier kids (and parents)!  For more information about this playground, visit Grommet Island.
Thumbs up: unique play features for everyone, ability for everyone to play on the beach, variety of slides and climbing areas, ability to install shade sails during summertime
Thumbs down: rubber surface had too much sand on it