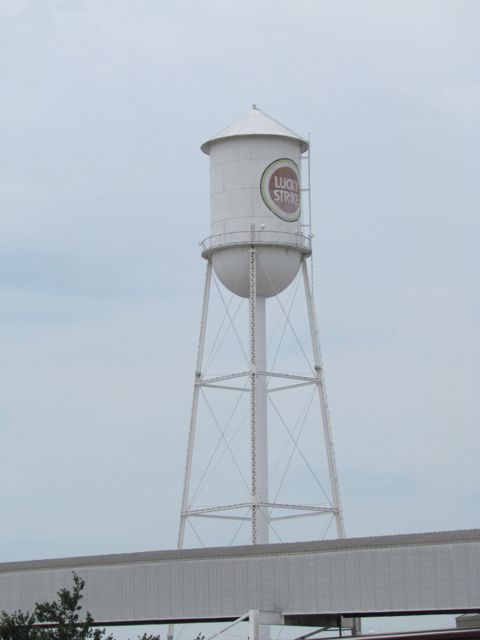 Living in Raleigh has spoiled me over the years with such close proximity to outdoor events, great restaurants, parks, live entertainment, etc.  Other than the dozens of trips to see a Durham Bulls baseball game, I never really make the short trek to Durham.  My intentions are always to explore Durham more, but it just never seems to happen.  However, with the countdown to baby number two being less than two months away my Durham radar is on high-alert so Ashley and I set off to do a special mommy/daughter morning in Durham.  You may ask, "What does that entail?"  Well, if there's something I know about two year olds, it's that they love attention and to eat; lucky for Ashley she is in good company.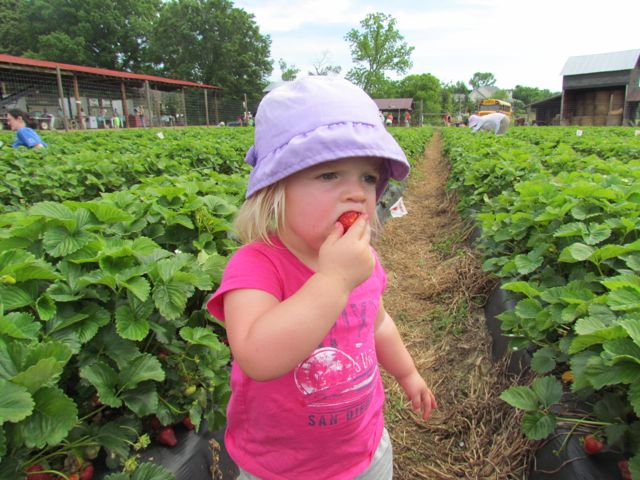 On stop #1 of our morning in Durham, we headed to Waller Family Farm to pick strawberries!  We love strawberries in this household and with May being the prime month for this delicious fruit, it couldn't have been a better fit for a two year old.  I found Waller Family Farm through the NC Ag's website and also started following them on Facebook to get their daily strawberry picking updates.  Waller Family Farm is located at 5005 Kerley Rd in Durham.  Unbeknownst to me (and the farm owners, I think) a local church (all 100 of them) also decided to go strawberry picking this morning!  As we arrived at the farm, the man directing traffic was super helpful in making sure we could find a parking spot because the church did not come in typical church vans or buses…every family drove separately!  So, we parked in the field, lathered in sunscreen and set off to pick strawberries.  The ladies at the cash registers were also very helpful by noticing we were not part of the church group and telling us the ripest strawberries were closest to the white flags in the fields.
As you can tell by the pictures, Ashley is all about some strawberries!  She quickly discerned the green strawberries from the red ones and sampled plenty of Waller Family fruits.  Our bucket full of strawberries yielded about 4 pounds and with it being only $1.99/pound you can't beat the price and experience!  The picking is still good at Waller Family Farms but be sure to check in with them before you head out there.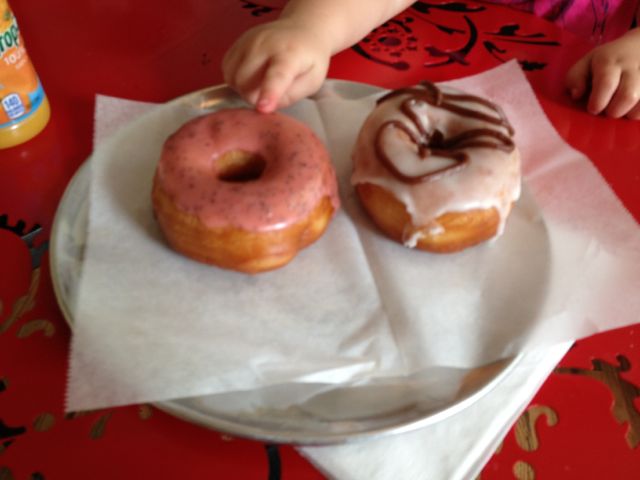 After strawberry picking we headed to downtown Durham for some local donuts at Monuts Donuts!  After reading a recent suggestion from local blogger Triangle Explorer about Monuts Donuts I knew I had to try them and being pregnant gave me the justification.  Durham has become quite the foodie city and having a speciality donut shop helps prove why.  Monuts Donuts opened its brick and mortar store earlier this year at 110 East Parrish St.  Before having a store front, they sold donuts at the farmers market and food truck rodeos.  This particular morning we shared a strawberry lime poppy seed donut and classic marble donut.  Both were out of this world!  Other than donuts, they also serve coffee, beer, and breakfast and lunch sandwiches.  I can't wait to go back for more!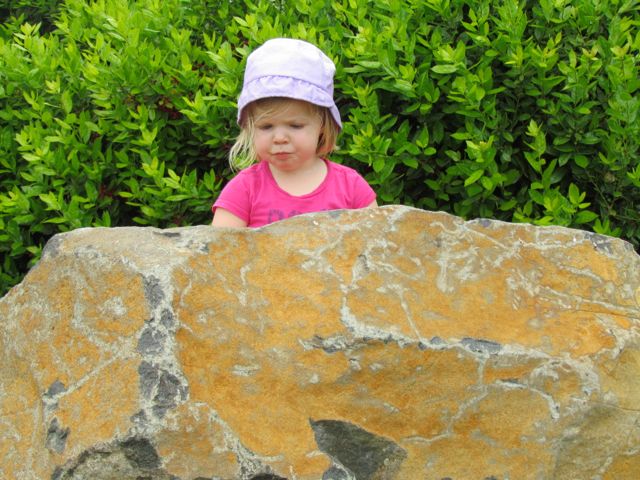 After filling up on donuts, we took a short drive over to the American Tobacco District for a quick picnic at stop #3, the Diamond View Park.  This park is located adjacent to the DPAC and Durham Bulls baseball stadium on Blackwell St.  There are several FREE short-term parking spaces (30 min, 1 hr, 2hr) nearby and also several long-term pay parking garages…just be sure to take note of the signs.  It's a rather large park for being in the middle of the city and doesn't have many features other than open green space, trees along the perimeter, and benches along the pathway.  On this particular day the park's perimeter was lined with short, temporary gates – probably for the upcoming outdoor concerts held in the park.  Being that Ashley and I had mostly filled up on strawberries and donuts, we didn't have much of an appetite for a real lunch, but I still enjoyed watching her run around after the frisbee while I relaxed on the lawn.  We also took in some good people watching as folks hurried to lunch at the various nearby restaurants.  To learn more about the history of the American Tobacco District, visit their website.
Wow, what a jam-packed morning of fun little adventures.  It was nice to get out of our normal routine and try something different.  Exploring new things in Durham was such a treat that I want to create a Durham Bucket List similar to my Raleigh Bucket List!
Thumbs up: strawberry picking, donuts, open space at park, availability of parking around park, mommy/daughter time, exploring Durham
Thumbs down: nothing to report