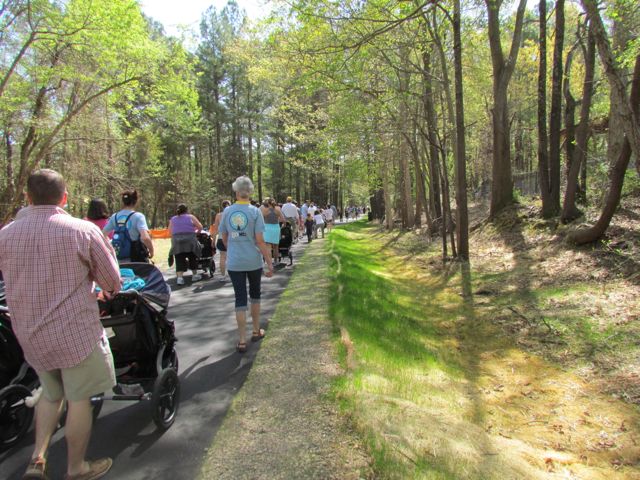 About a month ago we attended the Museum Park's Blue Loop opening at the NC Museum of Art.  It was the perfect spring morning to spend with friends while walking the new trail and enjoying live bluegrass music.  The Blue Loop is a one-mile trail that includes a new cut-through between the pond and Lowe's Park Pavilion and extends through a wooded section on the southwestern side of Museum Park.  It was made possible by Blue Cross Blue Shield of North Carolina.
The FREE celebration featured live music from Big Medicine Bluegrass Band and the A&T Drumline, healthy snacks from local food trucks, and a celebratory lap around the Blue Loop.  Special guests included Raleigh Mayor Nancy McFarlane, NCMA Director Lawrence Wheeler, and Blue Cross and Blue Shield of North Carolina CEO Brad Wilson.
The NC Museum of Art is located at 2110 Blue Ridge Rd.  View the Museum Park map for a complete look at the Blue Loop.
Thumbs up:  lots of shade and open space, wide paths, rolling hills (perfect for a challenging run/walk)
Thumbs down: nothing to report