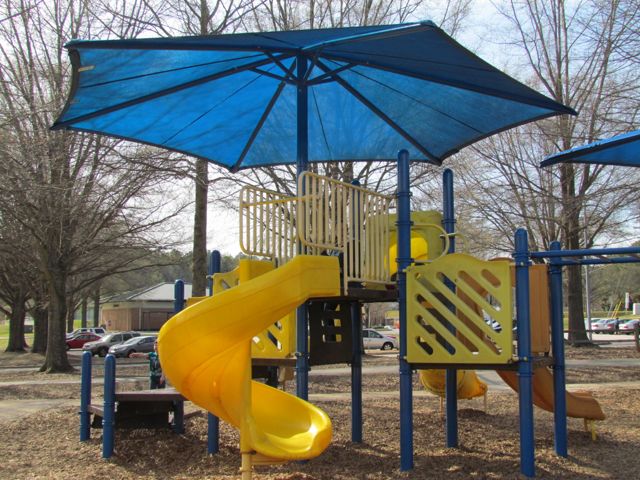 Williams Park is a bustling playground in the center of North Raleigh adjacent to Lynn Road Elementary School.  It is located at 1525 Lynn Road and some of the photos are from when Ashley was much younger and some are from this Spring.  As you can see, having a friend to climb through tunnels with, chase through the soccer field, and swing with is the best way to spend an early Spring afternoon!
In addition to the large playground area (complete with shady canopies), Williams Park has a large open field with soccer goals surrounded by a short walking path, tot swings, sand volleyball courts, youth swings, tennis courts, a large shelter area, and some shaded sitting areas.  The playground surface is made of wood chips and sand.  The playground areas are a series of small climbing structures with slides that are connected by monkey bars.  For younger ones, that means lots of repetitive trips down the same slides or that they'll need your help getting to the other play areas.  Since Ashley was just beginning to climb ladders at this time, she needed my help getting up to the higher slides too.
If you take a walk along the trail at the park, you'll find a small plaque memorializing the park to Peter P. Williams Jr.  According to a News & Observer article, his father donated the land for the park in honor of his son.  I always enjoy when I can find some tidbits on the history of a park!
Thumbs up: great shade, close parent-sitting areas throughout the playground
Thumbs down: I've been here in the past and seen where drainage can be an issue