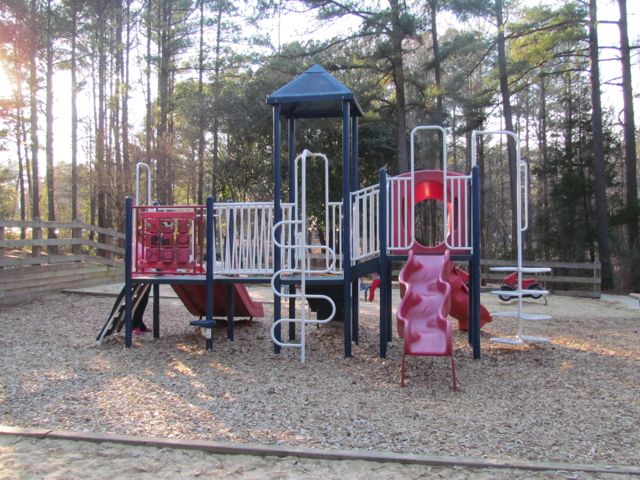 With our weekly trips (if not more frequent) to Shelley Lake for Stroller Strides classes, I finally took pictures of the playground area.  Shelley Park is conveniently located in central North Raleigh at 1400 W Millbrook Rd.  There are two entrances on Millbrook Road – one large parking lot near the Sertoma Arts Center/playground and the other just down the street with a smaller parking lot for jumping right on the walking trail around Shelley Lake.  To reach the playground, park in the Sertoma Arts Center parking lot and walk down the paved trail where you'll see the playground on the right.
The playground area is rather large with separate jungle gyms for ages 2-5 and 5-12 that are covered with wood chips.  The tot playground has several slides, a few climbing structures, and nearby teeter totters in the sandy area.  The youth playground has a climbing wall, steeper slides, a suspension bridge, an enclosed slide, and several climbing structures.  There are also four tot swings and four regular swings in the large sandy areas.
Other than the playground the park has picnic tables, basketball courts, a walking/running trail around the lake, and an arts center with lots of programs for people of all ages.  Ashley took a Mini Monet art class when she was about 18 months old and had a great time – while there wasn't a lot of painting, it was a great introductory class to colors, shapes, sensory objects and following directions!
As most parks indicate, please lock and hide all valuables or take them with you – I have a friend whose car was broken into at this park.
Thumbs up: tons of picnic tables, suspension bridge on large jungle gym, shady, variety of slides
Thumbs down: not much for non-walking kids to play on, frequent trash around basketball courts (c'mon folks, throw your trash away in the nearby trashcans)