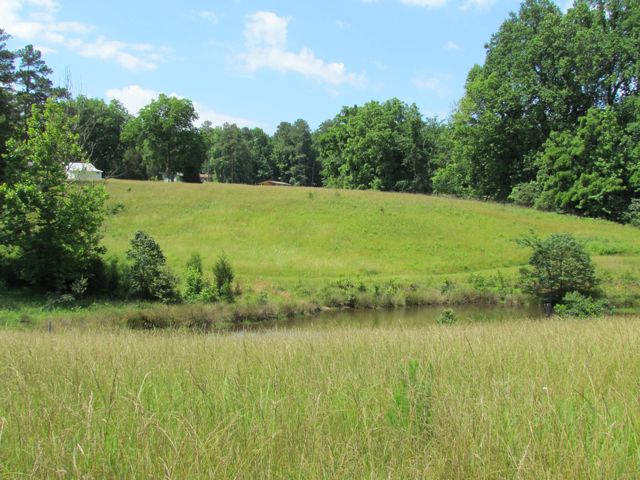 If you're looking for a place to go hiking in Raleigh and have exhausted your options at Umstead Park, you should definitely make your way into North Raleigh to Annie Louise Wilkerson, MD Nature Preserve Park.  Being the only visitors at the park a few months ago, we visited the main office and spoke to the very friendly and knowledgeable staff about the history of the park.  It was lovely to hear her speak about Dr. Annie's will to leave the land as a nature preserve park.  The park office was converted from an old residence on the property and there are future plans to convert Dr. Annie's old standing residence into indoor classrooms.
After visiting the park office, we headed off on the Hidden Rocks trail (1 mile long), which is known for having several crops of hidden rocks throughout.  The trail is about 2ft wide in most places and an easy path to walk, but there are a few narrow and slippery spots throughout.  This trail passes through open fields, forests of hardwoods.  As this park is still taking shape, the signs aren't completely finished yet, so be sure to pay close attention to where you are going.  After Hidden Rocks trail, we walked the Pond Loop, which is about 1/2 mile long and crosses over one of the ponds on the property.  This particular day was absolutely gorgeous and the reflections off the pond were crystal clear.  On our next trip here, we'll be sure to bring our hiking backpack instead of the Bob stroller that we used.  I'm sure we looked ridiculous with our stroller!
Being that this is a nature preserve park, you won't find any of the regular playground equipment you're accustomed to at other parks.  However, that did not prevent Ashley from having an amazing time in the natural play area; complete with stumps, teepees, tall grasses, and large logs, there are a lot of options for kids to have some imaginative play.
Near the natural play area is also a large pavilion used for educational programs and the public restrooms.  For more information about the Dr. Annie park, visit the City of Raleigh website.
Thumbs up: hiking trails, play area, park office, views of the open fields, photo ops, picnic spots
Thumbs down: signage through hiking trail