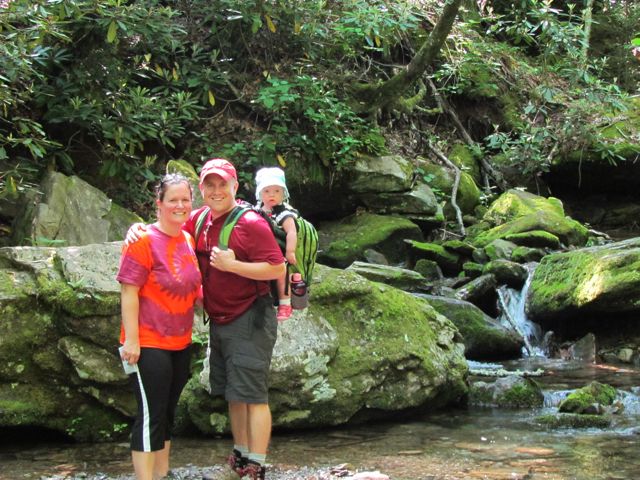 Oh, boy!  It's been a few weeks since I last posted about our trip to Grandfather Mountain: partly because I've been busy with other things, but mostly because I'm still wrapping my head around conquering the Profile Trail and Calloway Peak.  Yes, I used the word "conquered" when describing this hike.
On day 2 of our trip to Western NC, we headed with a few friends to the Profile Trail of Grandfather Mountain.  It's located just a few miles west of the Grandfather Mountain campground we stayed at and is free to visit, unlike the other entrances to Grandfather Mountain and the Swinging Bridge.
The trail length from NC 105 to the top at Calloway Peak is about 3.5 miles and 2000 ft ascent.  We had Ashley in our new Craigslist Kelty backpack for the trip so it took us about 4.5 hours to do the 7 mile round trip.  The first 1.7 miles until you get to Foscoe View is steep, but relatively easy.  In the beginning you cross several streams, which are great for a cool dip.  The trail is very narrow with lots of roots along the surface so you have to constantly be aware of your footing.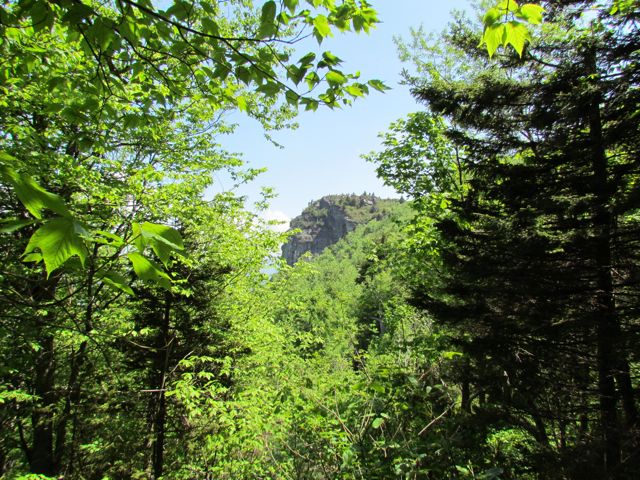 At 2.3 miles you reach Profile View, which offers a spectacular view of the Grandfather Profile. After you pass Profile View, the terrain gets much steeper and harder to ascend.  At 2.7 miles you reach Shanty Spring, which is known for being the "last sure water" spot.  We refilled here on the way back down the mountain as we did not come prepared with enough water.  Shanty Spring is a great rest area offering a lot of shade and a cool drink before ascending the strenuous path of boulders, which lies next.
The boulders we climbed after Shanty Spring were unlike any we've climbed before.  Having short legs didn't help but, nonetheless, even a 6ft tall person would have to raise their legs to their waist to climb these boulders.  It felt like a straight climb for a solid 20 minutes and it was hard to stop your momentum once you started.
Finally we reached the fork in the trail and headed left towards Calloway Peak.  On the way down the mountain half our group headed right to cross the Mile High Swinging Bridge, which they said was unbelievable!  But, back at the fork in the trail we still had another .4 miles to go to reach the top!  Finally, this part of the trail started to level out and we felt like we were getting closer to the end.  The fir trees were smaller in height and we could see the sky!  Our first stop was at Watauga View, which offers beautiful views of the mountains and valleys.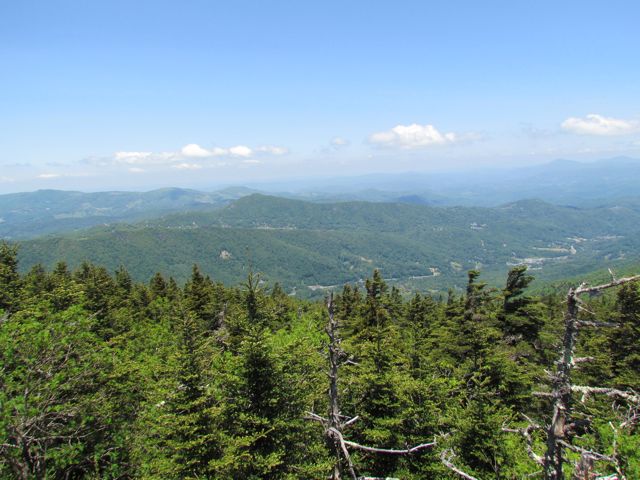 Continuing on, we headed to Calloway Peak, which includes climbing three different ladders suspended between large boulders.  It was unlike anything we'd climbed before, but so were the views at the top: the sky was so blue, the mountains so green and you could see for miles.
The hike down was much quicker than the hike up, but took a toll on our knees.  Having a 24lb baby and a 10lb pack didn't help, but she was an angel for the full 7 miles and even took a quick nap at the top.  Lucky for us, we were hiking with great friends who encouraged us the entire time (had they not been there, we probably would've turned around at Foscoe View)!  Reaching the parking lot was relieving, to say the least!  Reaching the Lowe's Food grocery store and celebrating with corked beverages and grilled double cheeseburgers was priceless!
Lessons Learned: pack at least 3 bottles of water per person, eat a large breakfast beforehand, pack sandwiches for lunch, hire a sherpa for baby
Thumbs Up: beautiful views, photo ops, great exercise, great day trip
Thumbs Down: hiking with baby strapped to your back, always looking down to avoid tripping