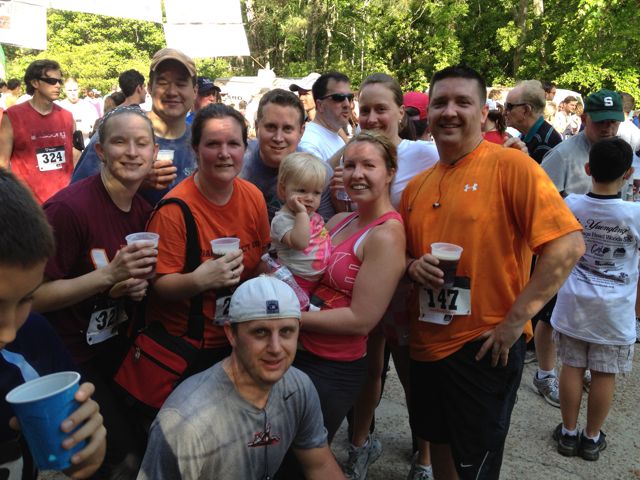 A few weeks ago we headed to Nags Head for our annual trip with friends for the Yuengling 5k Race. It's my favorite trip we take every year and I love how we recounted old trips that weekend and were able to trace our first visit back to 2005. We've gone every year since except for a hiatus in 2009. Over the years the group has grown making it a lot of fun, but a few things remain the same: 8am race on Saturday followed by Yuengling beer truck, a trip through Brew Thru for CLs, orange crushes at Mulligans, time on the beach with the dogs, great local seafood, and hot tub time machine!
Here are a few pics of us on the beach on Saturday and just after the race:
Before we headed home on Mother's Day Sunday, Bill and I explored Roanoke Island, home to over 400 years of amazing history.  We first drove through the small town of Wanchese and visited a local park, Ernest A "Pigum" Walker.  Then, we visited the other side of the island at Fort Raleigh and walked around the town of Manteo.  Roanoke Island is best known for being the place of the first English settlement and where the first child of English parents were born.  In addition, this was also the home to where escaped slaves lived during the Civil War.  The town of Manteo is a wonderful small town to visit with lots of great, local food, local breweries, and beautiful views of the sailboats on the water. I can't wait to visit again and try the Full Moon Brewery, more local restaurants, a festival, and sailboat ride in Manteo and the Elizabethan Gardens near Fort Raleigh.
Thumbs up: large playground area, small shady spot under playground, history of Roanoke Island, shops and stores in Manteo, photo ops, views of the sailboats
Thumbs down: fire ants/mosquitoes at Walker Park, very slow service at Poor Richard's sandwich shop in downtown Manteo