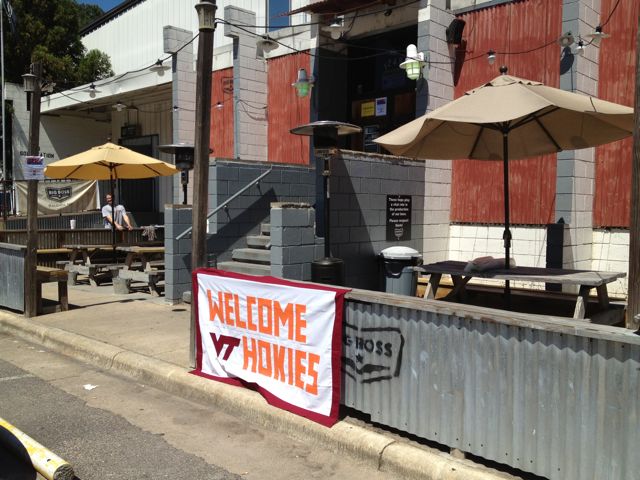 This past weekend, we explored part of the Crabtree Creek Trail greenway with over 50 fellow RTP Hokies for our annual Hokies 3.2 Memorial Run.  Our friends Becca and Brent organized the run, which started and finished at Big Boss Brewing Co.  It was an absolutely gorgeous day for the run and such a great reminder that Hokies are awesome! We even started the race with some Enter Sandman blasting from the car radio!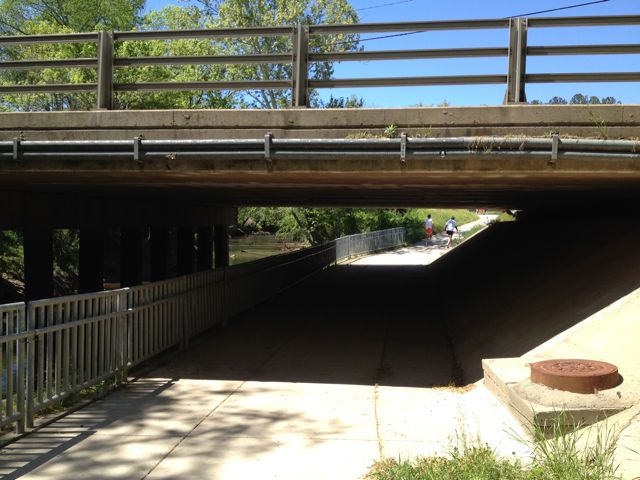 Like I said, we started the race at Big Boss Brewing Co, which is located at 1249 Wicker Drive in Raleigh.  Btw, they started a weekly run club about a year ago that you should check out! We headed north on Laurelbrook St and then made a left onto Hodges St, which runs parallel with the greenway.  Just east of Atlantic Ave, we jumped onto the Crabtree Creek Trail greenway and headed west.  This section of the greenway parallels Crabtree Creek so you have a nice view of the rapid flowing creek and several major overpasses and train tracks to cross under.  Being that we were pushing a stroller and not in our usual William & Kate shape, we lost sight of the group a few times on the way out.  Luckily some of the trail became familiar to me and at the fork in the road we headed right instead of left towards Kiwanis Park. We ran until we reached Oxford St and then turned around and headed back for a total of 3.2 miles.
Overall, this stretch of the greenway is nicely shaded, paved, and flat!  And, the best part of all was finishing the race with some much needed local beers at Big Boss with some awesome Hokies!  Ut Prosim!
Thumbs up: flat and shaded greenway, passing by the RTP Hokies hangout Carolina Ale House @ Creekside Dr, cold water and beer at Big Boss
Thumbs down: lack of signage or maps at forks in the greenway