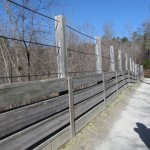 Craving some exercise and needing to leave the house for a Sunday morning showing (yes, cute house for sale), we headed to Umstead Park a few weekends ago to check out S & N Turkey Creek Trails.  We figured we'd park at our regular spot in the median off Reedy Creek Road, but came to find nothing but "No Parking" signs!  Ugh, you could sense the frustration I had when I saw them.  There are a few nearby neighborhoods, but those too have several "No Parking" signs along the streets and my husband's disapprovement of parking in random neighborhoods meant we had to search elsewhere.
Knowing S & N Turkey Creek Trails parallel much of Ebenezer Church Rd, we drove over that way looking for the parking spots I stashed in my memory bank. Heading north on Ebenezer Church Rd, just past Clyden Cove on your right, you'll come to gravel/dirt parking on the left-hand side of the street.  There are several "No Parking" signs near the gate so just be sure to park towards the left.
After quickly bundling up the baby, we set off down the gravel hill and continued north on S Turkey Creek Trail.  If you head left at the bottom of the hill, you'll go south back towards Reedy Creek Rd.  Very soon in our trip we came upon Crabtree Creek followed by Cedar Ridge Trail, one of the many hiking trails in the park.
Continuing on, N Turkey Creek Trail begins.  A bike race was happening this particular Sunday morning, so it was pretty exciting to see all the bikers with race bibs zoom by us.  There are some narrow sections on this trail, but for the most part they are wide, gravel paths.  Lucky for me, Bill pushed the stroller on the way out and dealt with most of the hills. Knowing Ashley would be hungry soon, about 30 minutes out we turned around and headed back for the car.
I love exploring the Umstead Park trails because of its peacefulness amidst a bustling city.  Regardless of the trail you explore in Umstead, it's bound to be an exciting one full of walkers, runners, bikers, or horses!